Sihka Ann Destroy - Owner / Instructor
Welcome to The Last Carnival. I began woking to create this company in the fall of 2013 and opened our doors for business in the begining of 2014. My aerial acrobatic journey began back in 2010 by taking my daughter to aerial dance classes as a way to inspire her to find some form of body movement she enjoyed. After having my second child, I began my own aerial training in my hometown of St. Louis, MO  and have since studied under aerial, acrobatic, contortion, and dance teachers from across the country as well as internationally. Many years prior to getting involved in aerial acrobatics I explored the arts of contortion, fire dance, and break dancing while traveling the country as a street performer in the early 2000s. I have since continued sharing live art through street theater as well as performing at state and town fairs. I also have produced and performed in stage and theater productions, and have been hired as a circus consultant and choreographer by companies such as the Musical Theater of Wichita.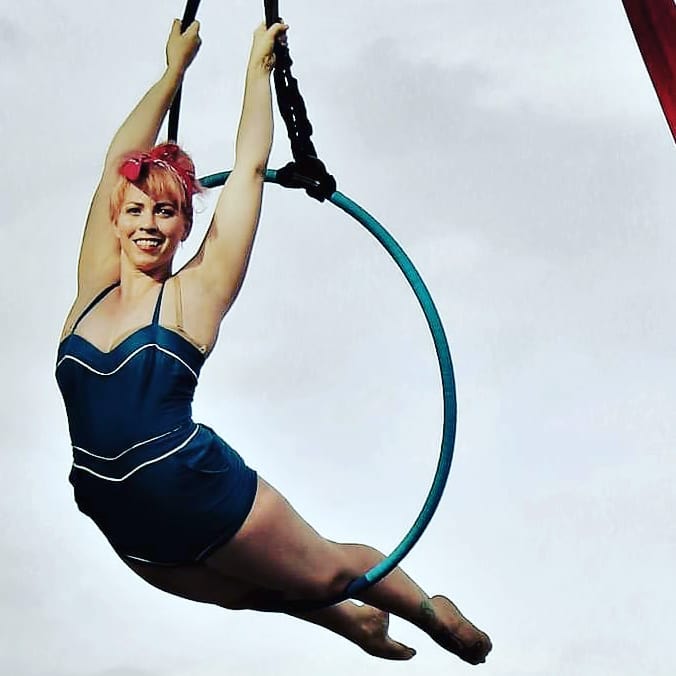 My acrobatic background comes from being a swimmer and diver growing up and then in my teens and early twenties delving into the world of break dancing and street battle dancing. From diving, I found acrobatics over the water to be a good transition to acrobatics in aerial apparatuses. I have studied under many different acrobatic and aerial instructors including Rachel McMeanchin (of Voler), Jenna Haddock (of Le Reve), Meg Wilson, Lisa Natoli, Caty Mae, Mariel Reynolds, The AcroVan acrobats, Frequent Flyers out of Boulder Co., the folks from Bumbershoots Aerial Arts and Circus Harmony in St. Louis to name a few. I travel to attend intensives and take private lessons  to keep what we teach here in the Midwest fresh. I've also trained with nationally touring artists from Cirque Du Soleil and other companies as often as possible to always broaden my knowledge and bring new perspectives to my acrobatic and performance journey.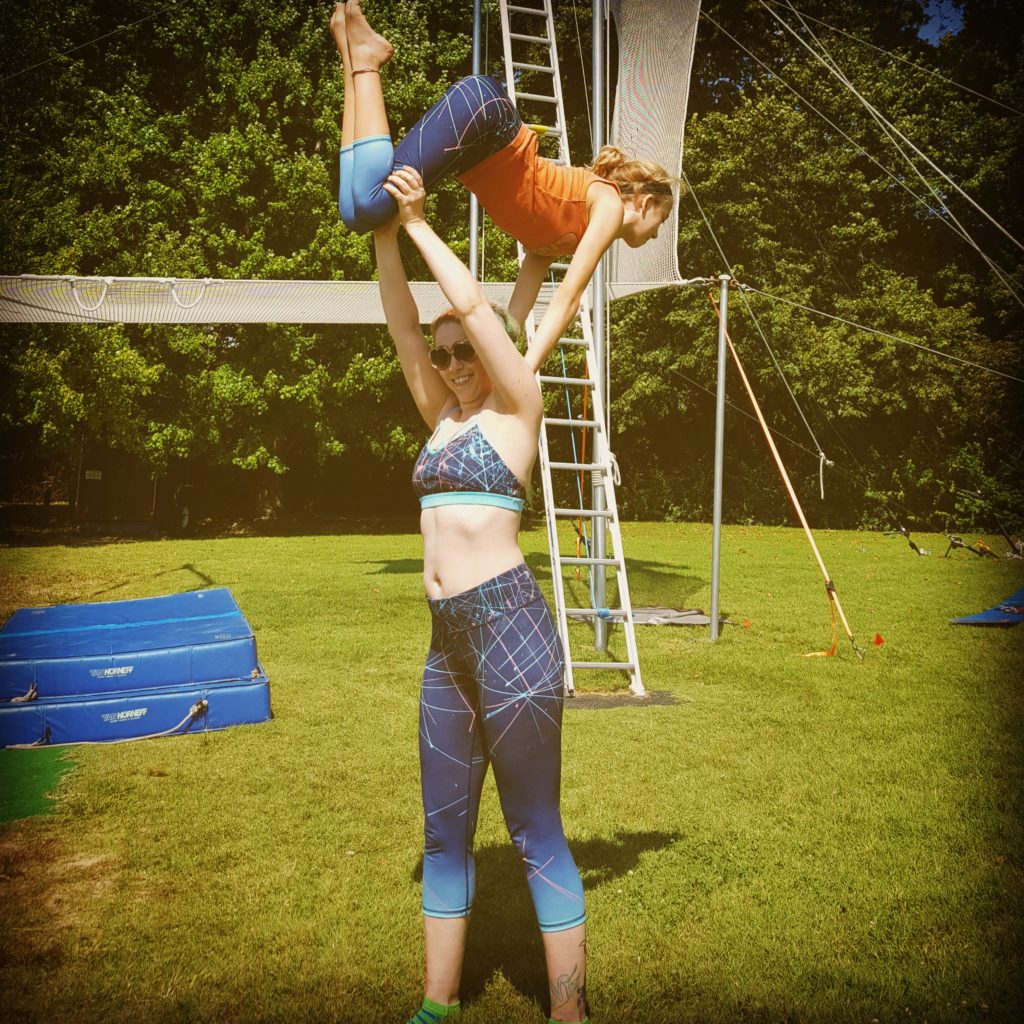 If it isn't yet obvious, I always dreamt of running away with the circus. This naturally led to years of work combining my training as a fire performer, aerialists, seamstress, teacher and entrepreneur to start a circus school and The Last Carnival Acrobats circus troupe. My passions are choreography and costume design along with teaching and watching others reach heights of personal growth that they may have thought impossible. I have taught aerial yoga, lyra, static and dance trapeze, aerial silks, cloud swing, partner acrobatics, corde lisse, partner aerial, flexibility for any body, contortion, prop work, act development, and stage presentation. My latest personal training passions include flying trapeze, hand balancing, and dance.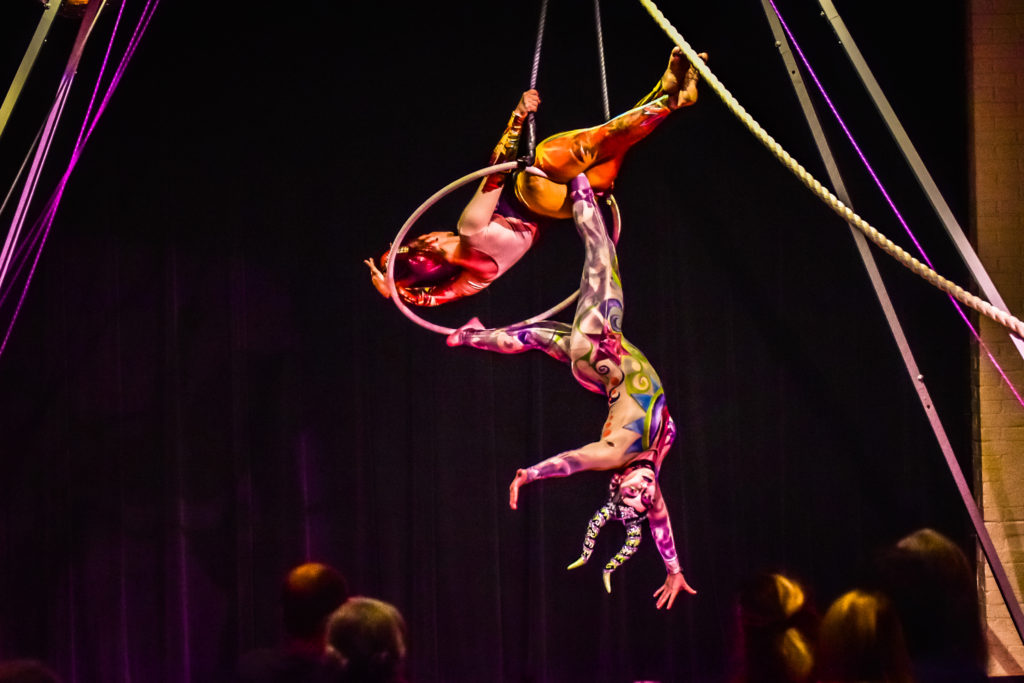 Prior to teaching circus arts I was a lead teacher at a preschool in St. Louis. I also for many years, due to limited access to an educational option in St. Louis that I agreed with, homeschooedl/ unschooled my oldest child. I moved to Lawrence in 2013 in hopes of having a safer environment and better educational options to raise my family in. And I am so happy to say that I have been lucky enough to find that here as well as a community excited about alternative fitness and art. I am overjoyed to be bringing my passion for body movement and imagination through art to all the circus enthusiasts in Lawrence Kansas and surrounding areas and help create a positive community of people cheering each other on in our new found successes.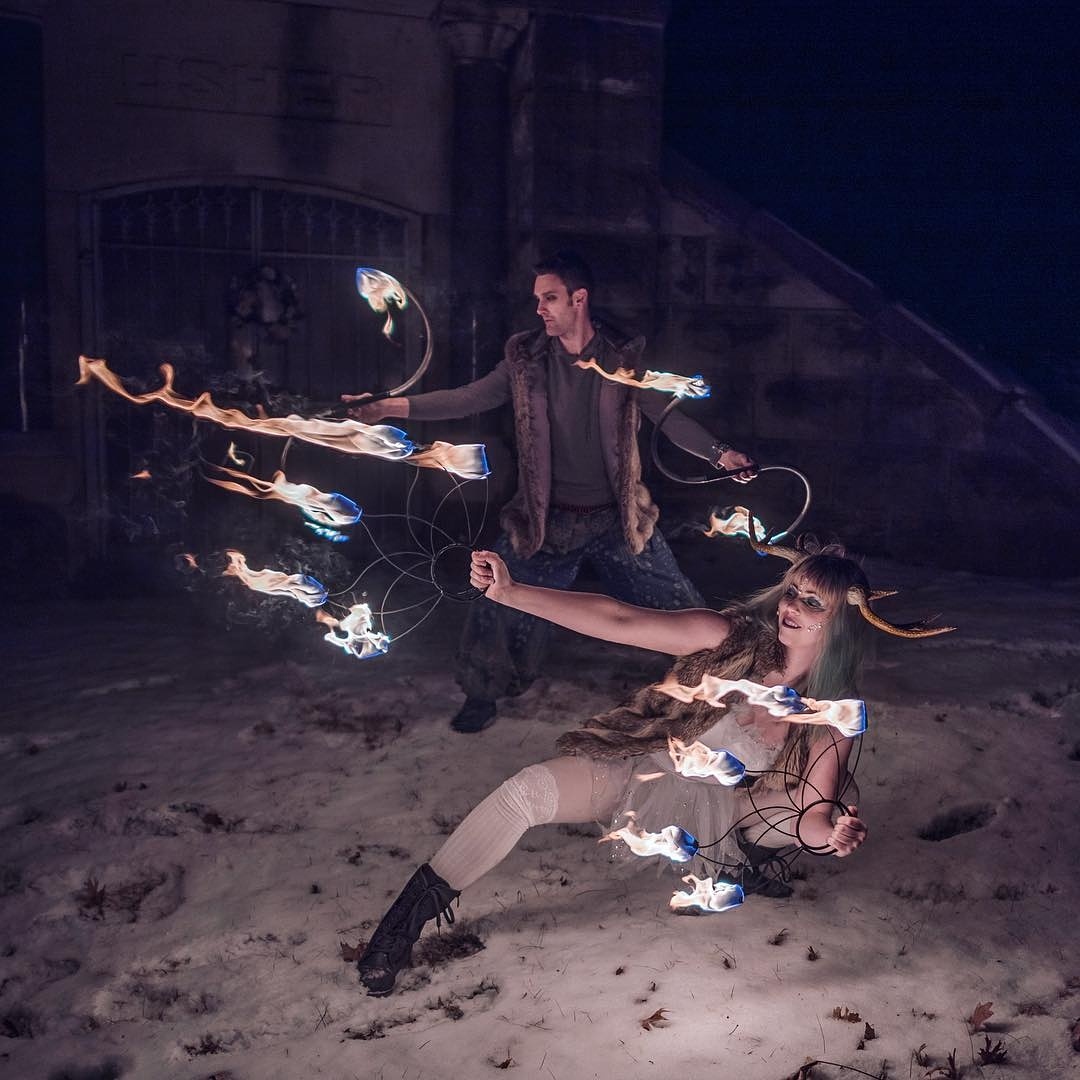 Website: SihkaAnnDestroy.com
Phone: 785 393-2878
TJ Coyle - Instructor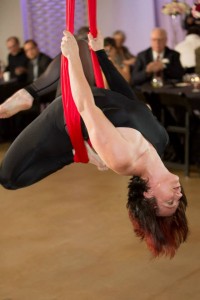 I have loved teaching and meeting amazing people from all walks of life since I was able to talk and walk. I have taught in all sorts of environments from various gyms, the office, at the University of Kansas, in Girl Scout troops and camps, to Corporate Leadership across the US, and Corporate Safety and Environment for Kellogg's Corporation, Sunshine, and Henke Manufacturing. But in all the teaching that I have done, I have enjoyed teaching aerial fitness the most out of any. It has given me a chance to meet some amazing people, stay healthy and fit, apply my corporate training experience and engineering minded thinking, and my knowledge in fitness, body awareness, and movement safety, all while escaping into the wonderful and fun world of circus arts. What excites me most about teaching aerial is that I can work with just about anyone, even if they don't have body awareness, strength, or flexibility, and help them gain a little bit more self awareness, finding the potential and opportunity deep within themselves, even if it is for just for one moment of their lives.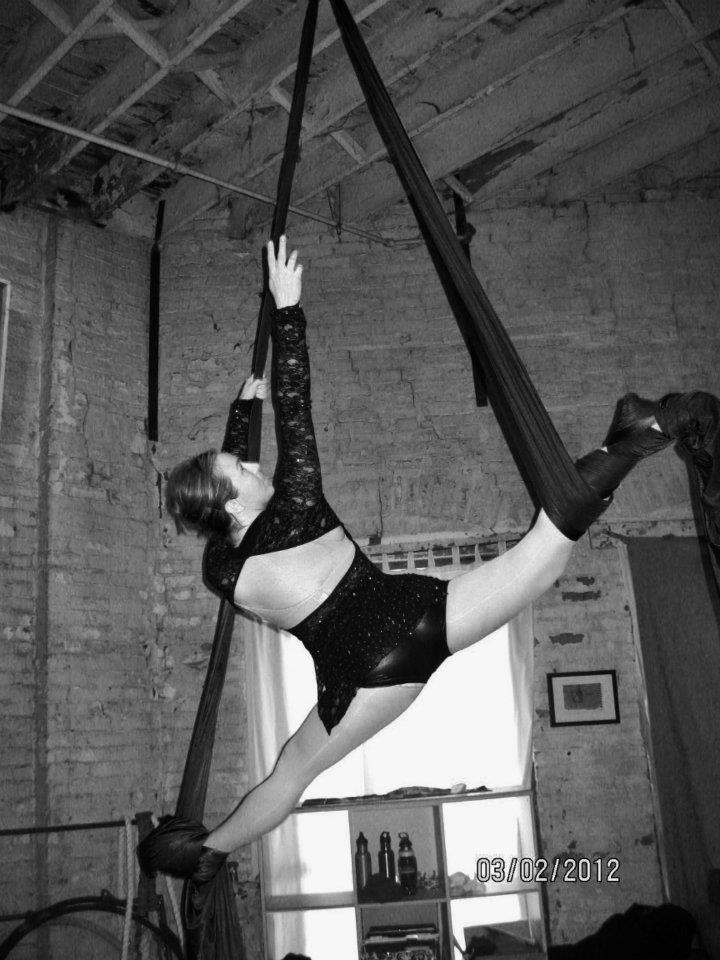 My interests in Fitness started in High school when I joined the Girls Wrestling team, until the program was cancelled because I was the only girl who hadn't quit, and couldn't practice against myself. My fitness career continued with body building in high school and continued through my first years of college. I was first certified as a Personal Trainer in 2007 through both the American Council on Exercise and National Association of Sports Medicine and became a Level Three Personal Trainer at 24 Hour Fitness through the National Academy of Sports Medicine. My fitness training history includes working at several gyms as a personal trainer, teaching boot camps, conditioning classes, and general flexibility classes, and privately supporting many new and old friends with their person fitness goals.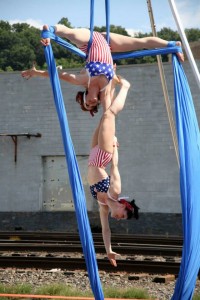 Though as a child I dreamed of performing on the flying trapeze, I didn't know there was a possibility of learning any circus skill until in December of 2009, when I saw an advertisement for an Introduction Aerial Silks Class, here in the USA!, In KANSAS CITY! My childhood stereotype was dismantlement with excitement. I instantly knew it was something I would be participating in for the rest of my life. I have been training, substitute teaching, and performing on various aerial apparatus ever since.
Linda Love - Instructor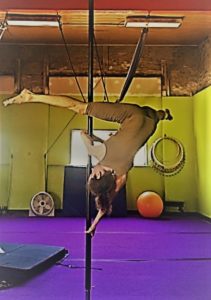 Linda is always down, up, or upside down to try out the next challenging move. You can catch Linda teaching acrobatic focused pole fitness classes at The Last Carnival. Linda is not only a teacher but a dedicated student as well, always wanting to learn more that inspires her. She is currently one of our advanced to our level 3 lyra class as well as a student of flexibility and contortion. Linda is passionate about sharing the beauty and artistry of pole with the community and seeing her students grow and progress from week to week. She has been practicing pole for over a decade and understands the body and how it moves as well through her career as a nurse. Linda teaches pole level 1 & 2 classes, so there is something for everyone at any fitness level to explore in her classes. Check out our calendar page for her class days and times.
Jo Anne Zingo - Instructor
Zada Al Gaziyeh
I am a lifelong dancer, studying and eventually teaching ballet, tap and jazz.  I earned my degree in Theatre Arts from the University of Connecticut in 1972.  In 1977, I took a belly dance class at the local YMCA and that was "it" for me.  I have had the pleasure and honor to study with instructors and performers at the top of the dance form in the US, Egypt and Morocco and to share my knowledge and skills as a workshop instructor in a dozen states.  Over the years you may have seen me dancing at the Kansas City Renaissance Festival - I started there in 1983 (!) One of Lawrence's best kept secrets is our dance company, Raghsidad, established in 1988.   Raghsidad means "they dance" and we do!!
Sylvan Mitchell - Instructor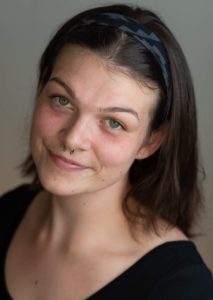 From an early age Sylvan Mitchell had a fascination with the performing arts. Starting with beginners ballet at the age of 3, she went on to study many different areas of the craft including theater, choir, tap, and competitive gymnastics.  At 15 Sylvan discovered the circus and aerial arts.  She enrolled in a beginner silks class at The Last Carnival Circus School in Lawrence, Kansas where she began exploring the challenges of ground and aerial acrobatics including contortion, silks, trapeze, lyra and partner acrobatics.  She soon realized that she had found her home in the performance world.
Aerial proved to be a perfect blend of disciplines for Sylvan. Much like traditional performing arts, Aerial is rooted in proper training and technique, and requires discipline, commitment, strength and stability.  What made aerial unique for Sylvan though, was the amount of creative control she was given over her performances. She also connected deeply with the collaborative nature of the community, and the diversity of people drawn to aerial and circus arts.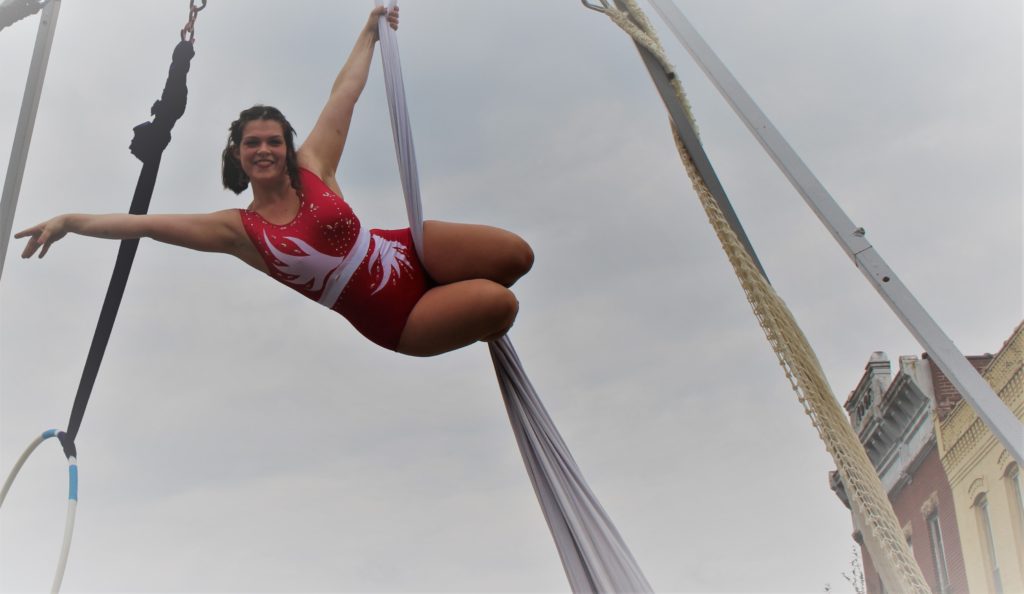 Sylvan continued to grow in her practice and was soon performing professionally across the Midwest, having the privilege of training under schools such as  The Last Carnival, KC Aerial Arts, Quixotic, and Voler Aerial Academy.
Sylvan obtained her 200 hours yoga teacher training in 2017.  Her personal yogic practice is in Ashtanga, also known as 8 limbed yoga.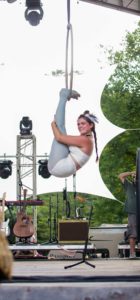 This style is largely rooted in strength as well as flexibility, and how they counteract each other. Throughout her 8 month yoga training Sylvan took a large focus on anatomy, and she uses that training to her advantage with her acrobatic, and yoga students.
Sylvan began teaching aerial arts in 2017.  She enjoys working with children and adults, and loves the different challenges both age groups bring.  She utilizes positive teaching techniques that emphasize safety, inquiry, creative expression, fluidity, connection with self and others, personal empowerment and physical transformation.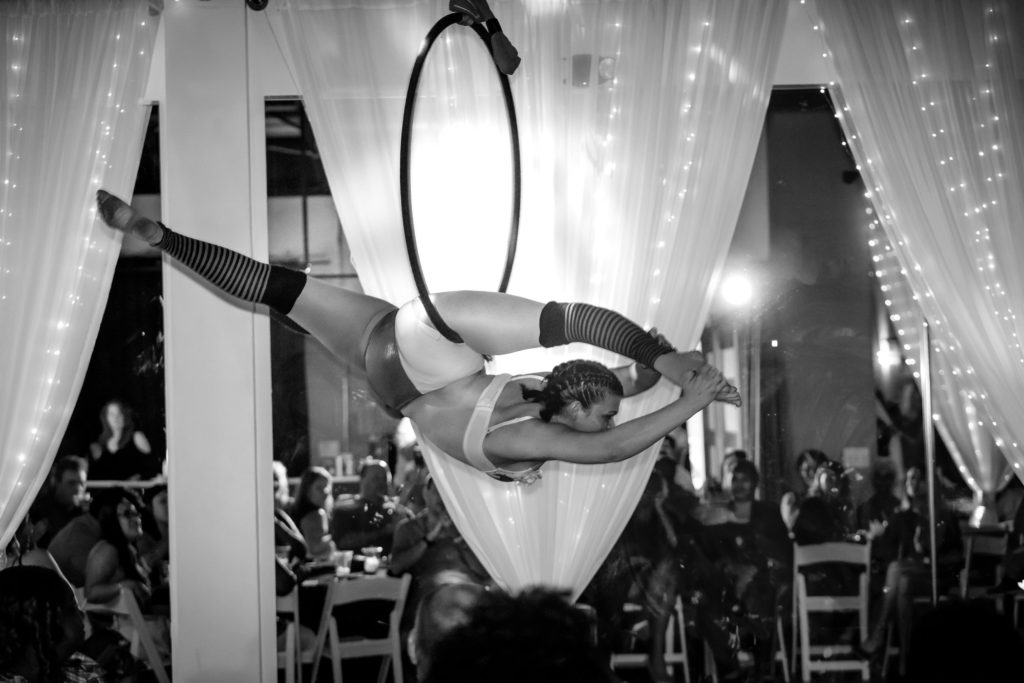 Ava - instructor
Ava began her flow journey back in 2017 where she first picked up hula hoop dancing. Not long after that she also started practicing double hoop dancing, fire hoop dancing, silk fans, fire fans, fire palm torches, poi, tribal fusion dancing, handstand acrobats, pole dancing and most recently aerial hoop, trapeze and contortion. But before Ava discovered the world of flow art and circus, she was a competitive gymnast in Kansas City up until the age of 11. Not long after that she jumped right into year round competitive swimming. In highschool she swam on the girls swim team and ran cross country and track. It was towards the end of highschool where Ava fell in love with things that not a lot of 17 year olds had a passion for. She realized that the benefits of  movement was something she would include into her life as long as possible. In March of 2019 Ava was accepted into The Dancing Bear Tribe LLC, a performance collective based out of St. Louis. She soon began performing for festivals and events in Missouri, Arkansas, Colorado, Oklahoma and Kansas. Once Ava started performing she knew that she wanted to make a career and lifestyle out of it. With her synchronicity and styles to music she knows how to capture an audience with her talents and passions. Along with performing Ava has hosted a couple hoop dancing workshops at FLOKC in Kansas City and has recently begun to teach an inversion and hand balancing class here at The Last Carnival. Ava hopes to share her love for movement with as many people as possible and inspire others that no matter where you come from, you are capable of achieving anything you dream of. 
Kate - instructor
Hello! My name is Katie Moshier. I am so grateful to be able to indulge in my passion of dance & yoga and share it with you! A little about my background... I began dancing all around my room as a young child, it was an innate desire in me from the beginning to MOVE! I studied jazz, tap, ballet and bits of modern. I delved into Ballroom and Swing Dance around 2003. From there I continue to learn and teach all these different forms of dance: Rumba, Cha-cha, East Coast swing, West Coast swing, Salsa, Merengue, Wedding dance. In addition, in 2015 I studied yoga for 10 months and am 200 hr certified. Kate is available for private and semi-private dance lessons at The Last Carnival.
Website: https://shallwedanceks.com/
[/tab]