Sihka Ann Destroy - Owner / Instructor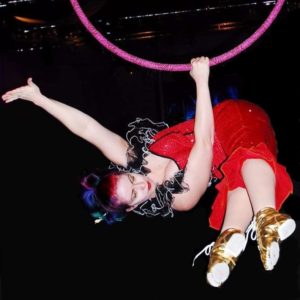 I've worked hard over all my years to get my art where it is today and plan to never stop in my quest to learn. When speaking with my mom on my plans to start a circus school she asks,  "have you always wanted to run away with the circus?" To which I answered plainly "Yes mom, yes I have".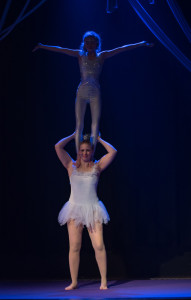 By the time you have read this I have studied dance ranging from underground 1990's electronic music scene's liquid, brake-dancing, dance crew styles, and beyond. I was a part of the street battle dancing, traditional drum dancing, trace spin dance scences and so many more. I add influences from jazz, modern, tap, and theatrical martial arts to my style as well creating an entirely new form of dance that I like to call Ninja Dance.
My acrobatic background comes from being a swimmer and diver growing up. I found acrobatics over the water to be a good transition to acrobatics in the air. I have studied under many different acrobatic and aerial instructors including Rachel McMeanchin (of Voler), Jenna Haddock (of Le Reve), Meg Wilson, Lisa Natoli, Caty Mae, Mariel Reynolds, The AcroVan acrobats, Frequent Flyers out of Boulder Co., the folks from Bumbershoots Aerial Arts and Circus Harmony in St. Louis to name a few. I attend intensives and train with nationally touring artists as often as possible to always broden my knowledge and bring new perspectives to my acrobatic and performance journey. My current favorite art to train in is flying trapeze but I have trained in dance and static trapeze, aerial silks, lyra, cloud swing, spanish web and corde lisse, aerial hammock, contortion, acroyoga, fire performing and other prop maniplation skills.
So here is my story… Once I was old enough to leave my home town on my own, I did. I walked, bicycled, hitchhiked, and rode trains all over the country and then some for a good four years straight and then intermittently for a decade after that. I got influences from everything and everyone I met and along this path got to experience many different types of art. On the road was where I grew as a performer, gaining experience and making a living busking. During this time in my life there was a lot of dancing, anywhere that I could find a beat. It became my love.
In the last few years my daughter Willow, my son Wylder, and I have been exploring a different way to dance – in the air. I first saw aerial silks performed when I was a child at a flea market circus in Ft. Lauderdale Florida. Like many, I was amazed. Until the last 10 years, this art was not widely available to be taught to the public.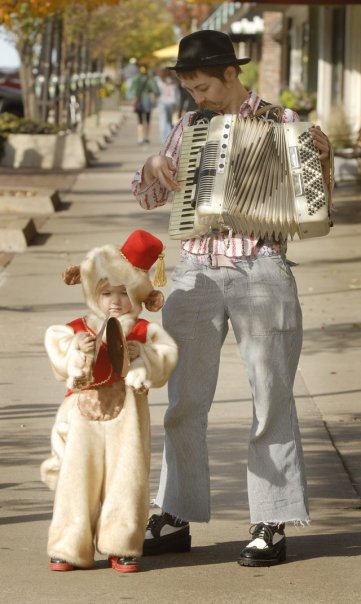 Once I found there were now schools for it and I could take classes, I wanted in. Willow and I first set foot in an aerial arts school in 2010, and we were hooked. We love it, and well everything about the circus. After having taken just one 6 week session of aerial fitness classes, I went from not being able to do a pull- up to doing seven. This helped tremendously when I took my first private trapeze lesson. At first I was sore from one class to the next, but then my energy and strength grew and I began pushing myself to new limits, which felt great. Sometimes I think, "Am I too old to be doing this", but then I think "Na, I'm living and when you stop living is when you start dying". And I feel amazing.
After moving to Lawrence KS in the spring of 2013, I felt what this town needed is more circus. For me it has always been hard not to get wanderlust and want to run away with the circus. In the back of my head my mind drifts to the memory of getting a lift from a carny hauling the tea cup ride across Nevada, who offered me and my traveling mate jobs as carnies. So I think the only way I know how not to run away with a sideshow is to start a circus right here where I now live. Welcome to The Last Carnival, a school for the circus based arts.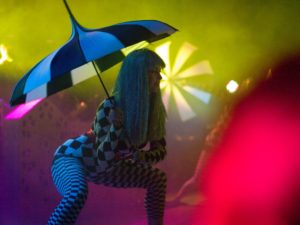 Website: SihkaAnnDestroy.com
Phone: 785 393-2878
TJ Coyle - Instructor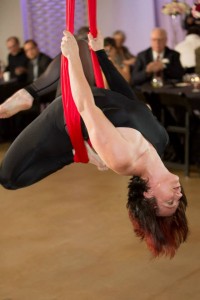 I have loved teaching and meeting amazing people from all walks of life since I was able to talk and walk. I have taught in all sorts of environments from various gyms, the office, at the University of Kansas, in Girl Scout troops and camps, to Corporate Leadership across the US, and Corporate Safety and Environment for Kellogg's Corporation, Sunshine, and Henke Manufacturing. But in all the teaching that I have done, I have enjoyed teaching aerial fitness the most out of any. It has given me a chance to meet some amazing people, stay healthy and fit, apply my corporate training experience and engineering minded thinking, and my knowledge in fitness, body awareness, and movement safety, all while escaping into the wonderful and fun world of circus arts. What excites me most about teaching aerial is that I can work with just about anyone, even if they don't have body awareness, strength, or flexibility, and help them gain a little bit more self awareness, finding the potential and opportunity deep within themselves, even if it is for just for one moment of their lives.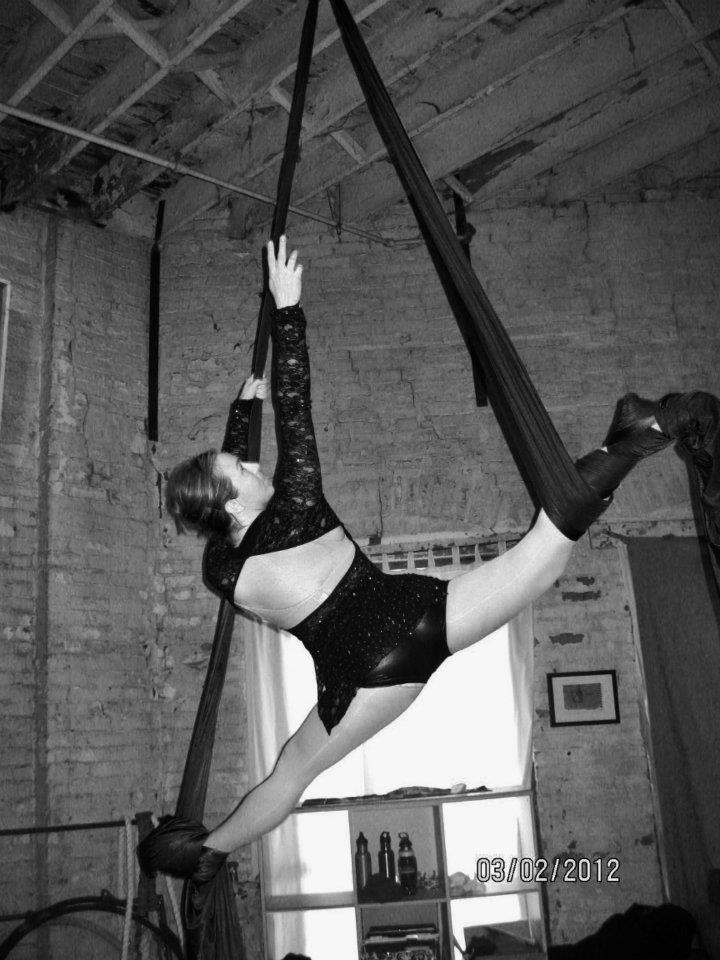 My interests in Fitness started in High school when I joined the Girls Wrestling team, until the program was cancelled because I was the only girl who hadn't quit, and couldn't practice against myself. My fitness career continued with body building in high school and continued through my first years of college. I was first certified as a Personal Trainer in 2007 through both the American Council on Exercise and National Association of Sports Medicine and became a Level Three Personal Trainer at 24 Hour Fitness through the National Academy of Sports Medicine. My fitness training history includes working at several gyms as a personal trainer, teaching boot camps, conditioning classes, and general flexibility classes, and privately supporting many new and old friends with their person fitness goals.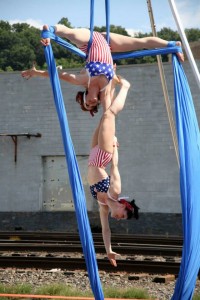 Though as a child I dreamed of performing on the flying trapeze, I didn't know there was a possibility of learning any circus skill until in December of 2010, when I saw an advertisement for an Introduction Aerial Silks Class, here in the USA!, In KANSAS CITY! My childhood stereotype was dismantlement with excitement. I instantly knew it was something I would be participating in for the rest of my life. I have been training, substitute teaching, and performing on various aerial apparatus ever since.
Kelsie Middaugh - Instructor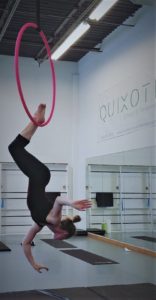 Kelsie is currently a senior at the University of Kansas with plans to graduate in the fall of 2018. She is majoring in English with a focus in creative writing and minoring in Dance. In the past four years she has had the opportunity to choreograph works for a number of student showcases as well perform in and produce shows. After completing a summer internship in 2016, she began performing with Quixotic, an internationally touring cirque nouveau performing arts company based out of Kansas City. She has also performed on multiple occasions with The Last Carnival Acrobats.

Kelsie taught with Lawrence Parks and Recreation for four years, teaching classes in gymnastics, dance, and fitness; gaining certification in both yoga and pilates. She currently teaches multiple disciplines at Dance Hues Studio and will be joining The Last Carnival to teach aerial yoga, flexibility and contortion, and aerial silks classes.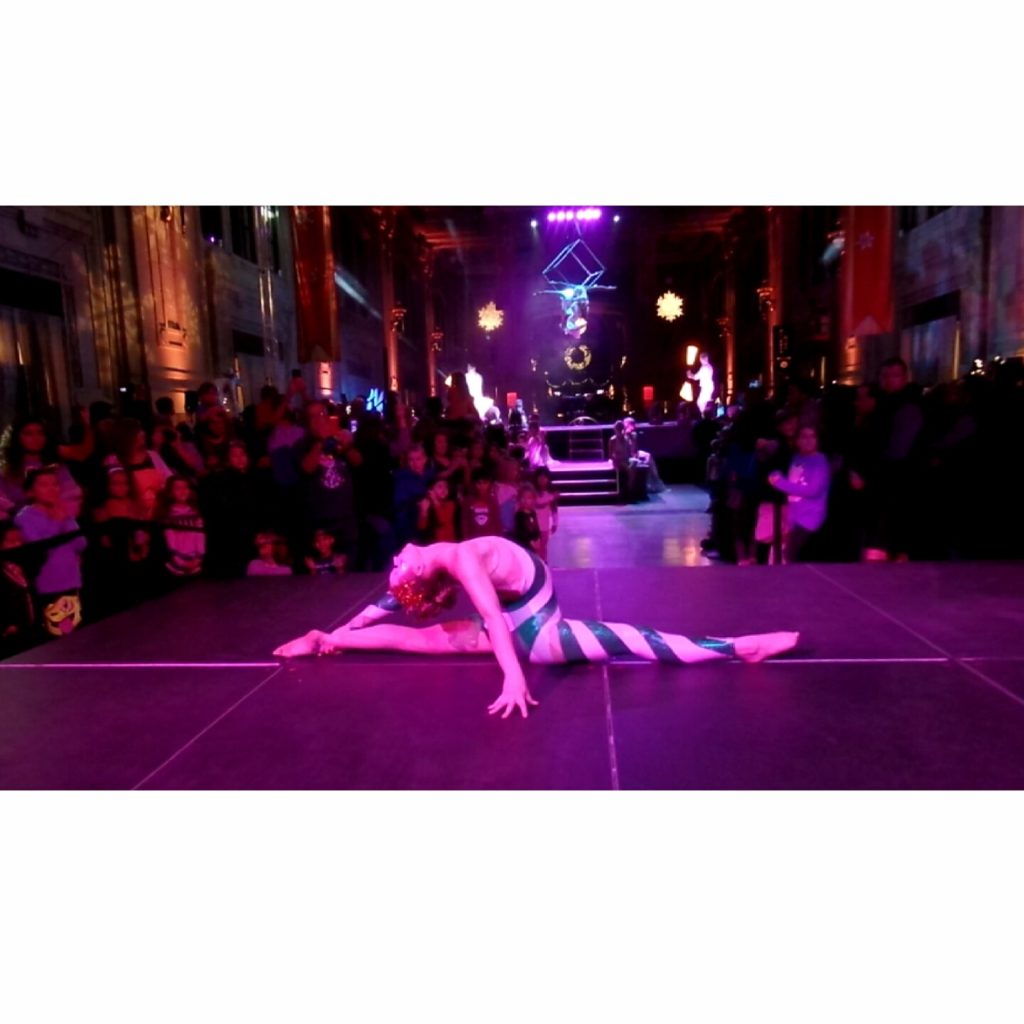 Sofia Liu - Instructor
Sofía was captivated by an aerial silks performance in 2012 while visiting Minneapolis for a conference. The aerialists were agile, incredibly strong, and looked like they were having so much fun! That night she told a colleague, "I want to do that someday." Luckily, for her, The Last Carnival circus school came to town a few years later. Sofía began her circus journey by taking silks classes with her daughter, Silvia, in 2015 and has been hooked on aerial arts ever since. While her focus is on silks, she dabbles with other apparatuses including trapeze and lyra. When she is not in the air, Sofía loves being in the water. Prior to becoming a circus devotee, Sofía's preferred exercise was deep water aerobics; she taught water aerobics for the City of Lawrence. These days she swims four days a week with the Lawrence Masters Swim Club.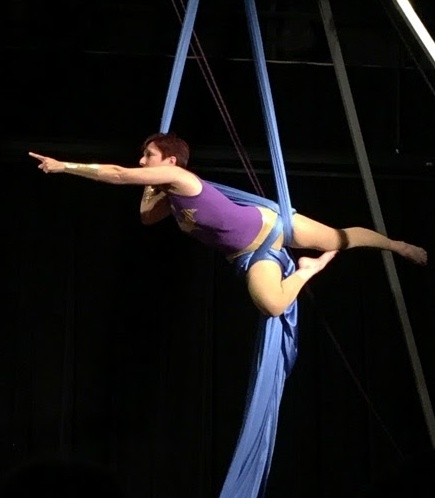 Sofía believes that exercise should be fun, challenging, and give you a feeling of accomplishment. She is astonished by the gains she has made while training with inspiring aerialists and acrobats. When she took her first class she could not do a single pull-up, but six weeks later she was able to pull herself up to a trapeze bar unassisted! In 2017, Sofía expanded her skills by completing Aerial Silks Teacher Training: Level 1 Foundations at Voler Aerial Academy in Kansas City. This deepened her knowledge of functional anatomy and planning efficient and effective classes. She is excited to help you realize your circus and fitness goals!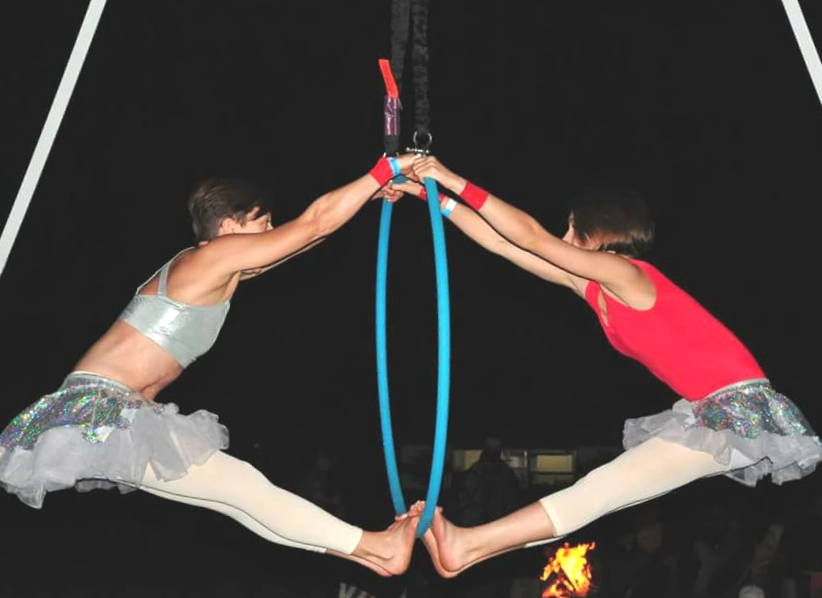 Linda Love - Instructor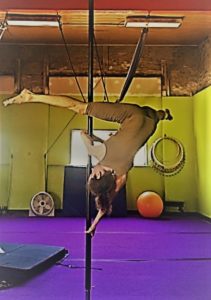 Linda is always down, up, or upside down to try out the next challenging move. You can catch Linda teaching acrobatic focused pole fitness classes at The Last Carnival. Linda is not only a teacher but a dedicated student as well, always wanting to learn more that inspires her. She is currently one of our advanced to our level 3 lyra class as well as a student of flexibility and contortion. Linda is passionate about sharing the beauty and artistry of pole with the community and seeing her students grow and progress from week to week. She has been practicing pole for over a decade and understands the body and how it moves as well through her career as a nurse. Linda teaches pole level 1 & 2 classes, so there is something for everyone at any fitness level to explore in her classes. Check out our calendar page for her class days and times.
Jo Anne Zingo - Instructor
Zada Al Gaziyeh
I am a lifelong dancer, studying and eventually teaching ballet, tap and jazz.  I earned my degree in Theatre Arts from the University of Connecticut in 1972.  In 1977, I took a belly dance class at the local YMCA and that was "it" for me.  I have had the pleasure and honor to study with instructors and performers at the top of the dance form in the US, Egypt and Morocco and to share my knowledge and skills as a workshop instructor in a dozen states.  Over the years you may have seen me dancing at the Kansas City Renaissance Festival - I started there in 1983 (!) One of Lawrence's best kept secrets is our dance company, Raghsidad, established in 1988.   Raghsidad means "they dance" and we do!!
Amy Schweppe - Instructor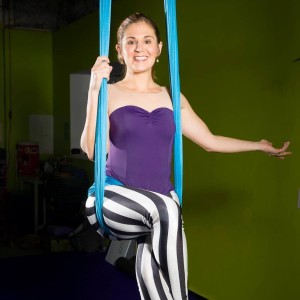 In grade school gym class Amy was the only girl who could beat the guys at pull-ups and arm hangs. She enjoyed track, dance, and gymnastics classes, but lost touch with these activities as she got older. In college she discovered yoga and began to reconnect with mind and body through exercise. Amy began seeing her own strength and capabilities increase and the roots began to grow. Yoga grew to Pilates and then eventually into weight training and CrossFit. She was lifting heavy things, jumping over tall boxes, and felt younger and more alive than ever. Her personal Pilates practice grew into teaching others how to find and hone the strength in their own bodies. Then one day a friend asked her to try an Aerial Silks class. Destiny struck.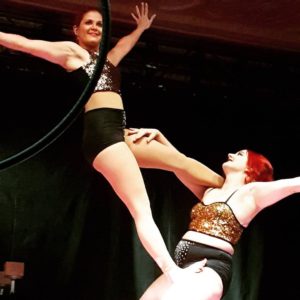 Amy loves being a student of circus and has taken almost every class there is to offer at the Last Carnival at least once. But her two passions are Aerial Silks and Acro Yoga. Amy works hard to improve her strength and form in Silks and is thrilled to be teaching these skills to others. Through Acro Yoga she channels her roots as a gymnast again. There's nothing like climbing, flying, and falling on your friends to bring you closer together.
Amy's fitness practice grew because her coaches and teachers believed she was capable of things she never imagined she could do. Fear and ego slowly dissipated and constant learning and personal discovery keeps her going. Amy hopes to help others find joy through learning and to discover the power of their own abilities.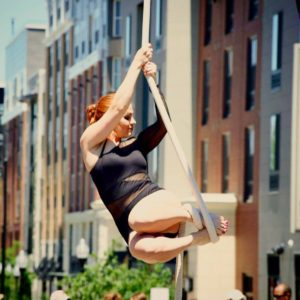 Matt Cramer - Instructor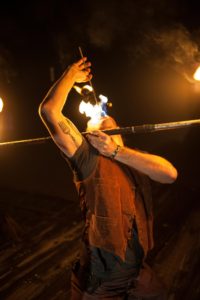 Matthew Cramer has over eight years experience in fire performance. Being his love, this art has held a special place in his life. Matt has had the privilege of performing many types of places and venues from busking the streets of the art district in The Crossroads District to producing full multi-segment shows for KC Fringe Festival. He specializes in poi, staff, diabolo, and fire eating. Recently Matt has expended his circus training to include lyra, trapeze, and partner aerial. When Matt is not at his other fire intensive job as a Chef, you can find him training at the circus school or performing with The Last Carnival Acrobats. Matt teaches all the fire performance skills classes and fire saftey for The Last Carnival.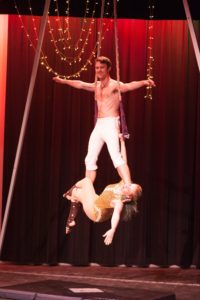 [/tab]