Sihka Ann Destroy - Owner / Instructor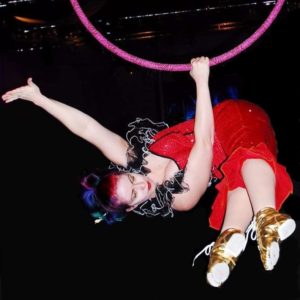 I've worked hard over all my years to get my art where it is today and plan to never stop in my quest to learn. When speaking with my mom on my plans to start a circus school she asks,  "have you always wanted to run away with the circus?" To which I answered plainly "Yes mom, yes I have".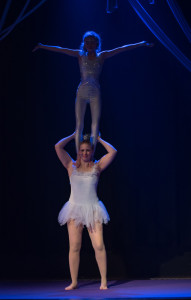 By the time you have read this I have studied dance ranging from underground 1990's electronic music scene's liquid, brake-dancing, dance crew styles, and beyond. I was a part of the street battle dancing, traditional drum dancing, trace spin dance scences and so many more. I add influences from jazz, modern, tap, and theatrical martial arts to my style as well creating an entirely new form of dance that I like to call Ninja Dance.
My acrobatic background comes from being a swimmer and diver growing up. I found acrobatics over the water to be a good transition to acrobatics in the air. I have studied under many different acrobatic and aerial instructors including Rachel McMeanchin (of Voler), Jenna Haddock (of Le Reve), Meg Wilson, Lisa Natoli, Caty Mae, Mariel Reynolds, The AcroVan acrobats, Frequent Flyers out of Boulder Co., the folks from Bumbershoots Aerial Arts and Circus Harmony in St. Louis to name a few. I attend intensives and train with nationally touring artists as often as possible to always broden my knowledge and bring new perspectives to my acrobatic and performance journey. My current favorite art to train in is flying trapeze but I have trained in dance and static trapeze, aerial silks, lyra, cloud swing, spanish web and corde lisse, aerial hammock, contortion, acroyoga, fire performing and other prop maniplation skills.
So here is my story… Once I was old enough to leave my home town on my own, I did. I walked, bicycled, hitchhiked, and rode trains all over the country and then some for a good four years straight and then intermittently for a decade after that. I got influences from everything and everyone I met and along this path got to experience many different types of art. On the road was where I grew as a performer, gaining experience and making a living busking. During this time in my life there was a lot of dancing, anywhere that I could find a beat. It became my love.
In the last few years my daughter Willow, my son Wylder, and I have been exploring a different way to dance – in the air. I first saw aerial silks performed when I was a child at a flea market circus in Ft. Lauderdale Florida. Like many, I was amazed. Until the last 10 years, this art was not widely available to be taught to the public.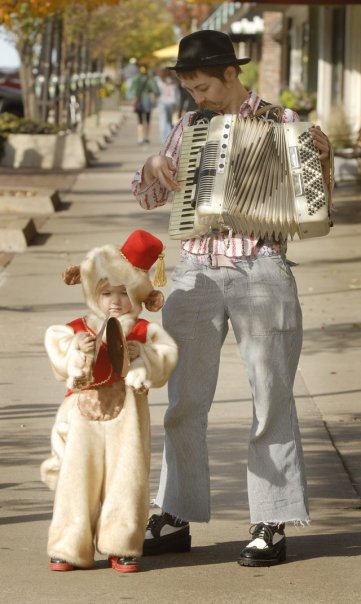 Once I found there were now schools for it and I could take classes, I wanted in. Willow and I first set foot in an aerial arts school in 2010, and we were hooked. We love it, and well everything about the circus. After having taken just one 6 week session of aerial fitness classes, I went from not being able to do a pull- up to doing seven. This helped tremendously when I took my first private trapeze lesson. At first I was sore from one class to the next, but then my energy and strength grew and I began pushing myself to new limits, which felt great. Sometimes I think, "Am I too old to be doing this", but then I think "Na, I'm living and when you stop living is when you start dying". And I feel amazing.
After moving to Lawrence KS in the spring of 2013, I felt what this town needed is more circus. For me it has always been hard not to get wanderlust and want to run away with the circus. In the back of my head my mind drifts to the memory of getting a lift from a carny hauling the tea cup ride across Nevada, who offered me and my traveling mate jobs as carnies. So I think the only way I know how not to run away with a sideshow is to start a circus right here where I now live. Welcome to The Last Carnival, a school for the circus based arts.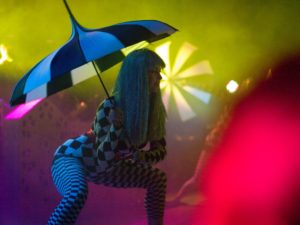 Website: SihkaAnnDestroy.com
Phone: 785 393-2878
Rachel McMeachin - Instructor
Ok so a brief history of me and my training... Began working as a fire performer in the summer of 96 while involved with a band called Crash Worship. Went on to work in a side show circus Voodoo Funhouse performing with fire, dancing on broken glass, bed of nails and bullwhip tricks in the early 2000's. In 2006 I began studying aerial silks with Lynn Coleman (producer of the Aerial Acrobatic Arts Festival in - Denver). She was training me in performance and teaching of the silks for a year and 1/2. I continued my aerial training with other professional performers and teachers such as Lara Paxton from Circus Contraption, Rain Wilson of Paper Doll Militia, and Elsie Smith of New England Center of Circus Arts and various members of aerialist on the Cirque Du Soleil performance roster. I've been lucky enough to train with some of the most amazing performers in the field.
Aerial work then led me into the world of other physical expression. Namely Yoga and AcroYoga. I began studying AcroYoga with founder Jason Nemer in 2007 and began training and traveling to work and play with Acroyogis from all over the world. I received my Yoga teaching certification in 2009 at Yandara Yoga Institute in Baja Mexico and in 2011 became a certified AcroYoga teacher in Corfu Greece. I am one of 300 certified AcroYoga teachers in the world. I am now Acroyoga International Level 2 certified and Acro Revolution certified.
I created the first aerial school in KC starting in 2006 where I have been teaching and hosting a variety of circus, dance, and movement classes. I have trained many students that have gone on to perform and become aerial instructors in most of the other aerial groups in the area. As well as creating a fun, safe and invigorating space for students who are just looking for a new way to stay fit and healthy.
Website: thievesofflight.com
Phone: 816 668-6292
Amy Schweppe - Instructor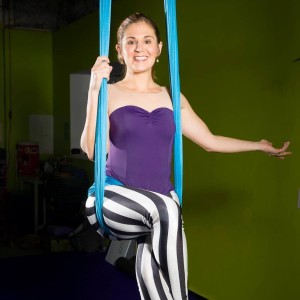 In grade school gym class Amy was the only girl who could beat the guys at pull-ups and arm hangs. She enjoyed track, dance, and gymnastics classes, but lost touch with these activities as she got older. In college she discovered yoga and began to reconnect with mind and body through exercise. Amy began seeing her own strength and capabilities increase and the roots began to grow. Yoga grew to Pilates and then eventually into weight training and CrossFit. She was lifting heavy things, jumping over tall boxes, and felt younger and more alive than ever. Her personal Pilates practice grew into teaching others how to find and hone the strength in their own bodies. Then one day a friend asked her to try an Aerial Silks class. Destiny struck.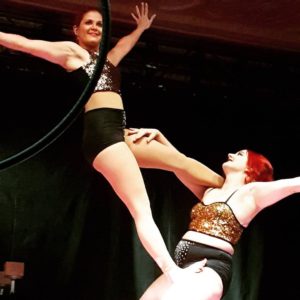 Amy loves being a student of circus and has taken almost every class there is to offer at the Last Carnival at least once. But her two passions are Aerial Silks and Acro Yoga. Amy works hard to improve her strength and form in Silks and is thrilled to be teaching these skills to others. Through Acro Yoga she channels her roots as a gymnast again. There's nothing like climbing, flying, and falling on your friends to bring you closer together.
Amy's fitness practice grew because her coaches and teachers believed she was capable of things she never imagined she could do. Fear and ego slowly dissipated and constant learning and personal discovery keeps her going. Amy hopes to help others find joy through learning and to discover the power of their own abilities.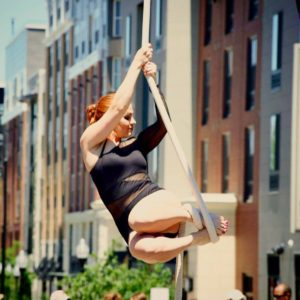 Diana Velasco - Instructor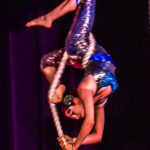 Diana first stumbled upon aerial arts in 2011 training with Aerial Space in Asheville NC and later with Johnson City Aerial Arts in Johnson City TN, but it wasn't until she moved to the beautiful midwest in 2015 that she fully committed to her circus calling. Now, she trains multiple times a week with The Last Carnival circus school, as well ast Voler; Thiefs of Flight in Kansas City and Lucia Aerial Arts in Overland Park as often as schedule allows. Though silks are what first captivated her circus heart she also works with corde lisse, trapeze, lyra, and partner aerial. She hopes to someday pursue further training in flying trapeze and tippy lyra. A biologist by trade, when she's not dangling mid-air, she is passionate about aquatic sciences, paleontology, and all things outdoors.
Diana is available for  billigual (english/ spanish) private lessons She is currently the instructor for our upper level kids silks classes here at The Last Carnival, as well as our Trapeze classes. Diana is also a member of The Last Carnival Acrobats traveling performance troupe performing in trapeze, corde lisse, and aerial silks.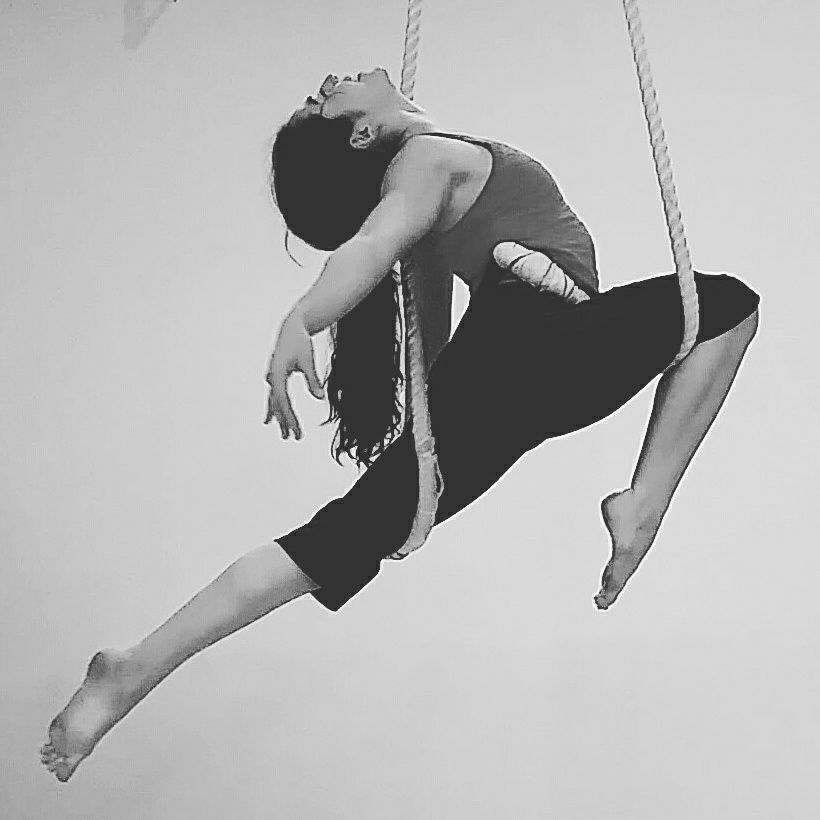 [/tab]