Lyra Classes at The Last Carnival
Lyra Level 1
Come hang with us! In this class you can learn the moves and transitions to bend and twist your body gracefully around this circle in the sky. In beginners Aerial Hoop class we will focus on the basics of aerial bar work. You will learn body positioning, balance, and conditioning moves that will allow you to properly execute moves with grace and style (neither of which you need to join in). By the end of this class you will have learned different mounts, knee hangs, inversions, back bends, ankle hangs, arrows, hip hangs, splits, leg blocks, back balances, and fancy sitting poses, how to steer the lyra, and much more.
Lyra Level 2
Intermediate to advanced students that are comfortable in the air and can hold themselves into poses for longer periods of time and have the stamina to transition safely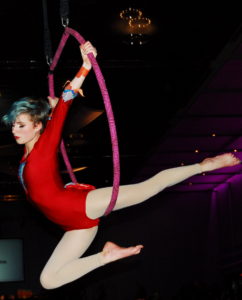 through multiple moves will focus on momentum moves, single arm hangs, shoulder hangs, neck hangs, toe hangs, ankle hangs, single knee hangs, more extreme backbends and splits, and more muscle moves. Once these skills are mastered we will move on to playing with the artistry of the apparatuses, creating sequenced moves to music. There is something for everyone at every level. Come learn to be awesome with us!
This is a 60 minute class. Instructed by Dana.  Drop Ins Allowed. $25/class.  When you sign up and prepay for the whole 6 week course the price per class is discounted to $20/class. Register online today though The Last Carnival calendar page.
History of Aerial Hoop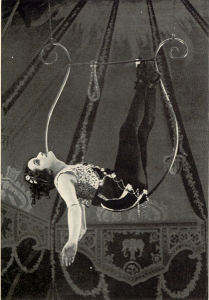 The aerial hoop (also known as the lyra, aerial ring or circeaux) is a circular metal apparatus (resembling a hula hoop) suspended in the air. Circus artists use it to perform aerial acrobatics. The act usually combines static and swinging trapeze skills with static, spinning, and swinging poses.
Aerial hoop is similar to some styles of gymnastics. However, it is performed as an art form instead of a competitive sport. Aerial hooping involves a great deal of strength, flexibility, and grace. As such, it is also a popular fitness activity. The poses and movements tone the whole body while improving flexibility and balance.
Aerial hooping is a beautiful art form. It is of the oldest and most respected forms in the aerial tradition. Aerial hoops help performers create stunning displays of skill high above the stage.