This is your spot to keep updated on all thing happening in the upcoming weeks at the circus school…
If you have any questions don't hesitate to ask your instructor or contact Sihka, owner of the Last Carnival school.
Our next six week session of classes will run from:
There will be in studio and online class options for a short class session the month of May
Summer Session of classes is 12 weeks and will begin 6/1/2020.
Please be registered at least a week prior to your class to make sure you will be able to participate in the session.
Online Training Options:
Check out our calendar page to see day and times we are offering online training sessions using the ZOOM app. Private lesson are available upon request. There are now group options available in the following:
-Yoga Wheel Workshop
-Finding Your Splits
-Conditioning for Aerialists and Dancers
-Back Bends and Shapes
New Class Offering in Lansing:
Circus Showcase Information:
*6/13/2020 Community Circus Showcase at The Lawrence Creates MakerSpace. There will be online sign ups for students to register to perform. There will be just one evening performance of this with limited seating (75 seats), so please buy your tickets in advance.
Professional Performances:
If you are looking to book circus acts for your event check out our hire performers page!
You can catch the Last Carnival Acrobats performing at both private and public events. This troupe is compromised of some of the instructors from The Last Carnival, other local professional performers, as well as Sihka (owner of the school) and her circus family. The following is a list of upcoming public performances.
*We will have more shows coming for you both locally and regionally and more details will be released as details are finalized with some dates to save…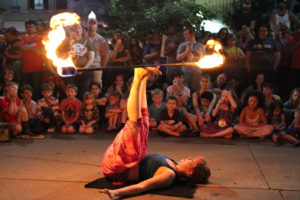 *September 4-7th Labor Day Weekend  Come out for the Thirteenth annual Lawrence Busker Festival. Our fire performers will be out each night at the US Bank stage! It's our once-a-year-get-weird-weekend where you will find unusual entertainment all over downtown Lawrence. This year we will getting bigger by going an extra day. That's an extra day to make sure you see every act! Take a look at our Artists, our Schedule and ourSponsors and make plans to attend. See you there! This is a free event for all, but we sure do appreciate your tips in our hats.
Class / Instructor updates: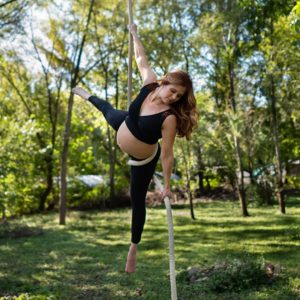 *There will be no corde lisse classes in the upcoming session as our corde instructor, Amy Schweppe, will be taking a break to grow her family. Congratulations Amy on the new addition to the Schweppe family and for being an example of a strong woman teaching into her third trimester. There will still be space to practice what you have learned in our new vertical apparatus open gym.
Camps, Workshops, And Intensives:
*Our summer camps will be cancelled for 2020 due to covid-19. We plan to keep you updated for 2021 camps.
Job Opportunities:
Please send your cirque demo reals and resume to Sihka.