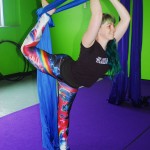 Aerial Yoga
Aerial Yoga class is for people of all shapes and sizes. No matter if you are bendy and strong, or quite the opposite – you are welcome at The Last Carnival Aerial Yoga classes. We are here to help you meet your personal flexibility and strength goals, progressing at a rate that you are comfortable with. Read More…
Aerial Silks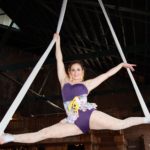 Come learn the fundamentals of aerial silks: your first step to becoming an aerialist! For the first time student, you will learn the basics of aerial conditioning, climbing and foot locks and more! Learn at your own pace with other beginners. Beginner Aerial Silks classes are designed to give you a taste of what aerial movement is all about. Once you have down the basics you can move on to our upper level aerial silks classes. Read More…
Lyra (Aerial Hoop)
Come hang with us! In this class you can learn the moves and transitions to bend and twist your body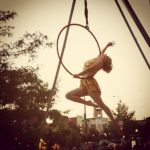 gracefully around this circle in the sky. You will learn body positioning, balance, and conditioning techniques that will allow you to properly execute movements with grace and style (neither of which you need to join in). Read More…
Static  and Dance Trapeze
Trapeze is one of the oldest and most versatile of  apparatuses, which lays the foundation on which all other forms of aerial are based. This class will focus on the techniques necessary to achieve static and dynamic moves with fluidity.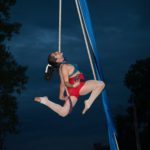 Read More…
Fly Fitness
Fly Fitness gets you fit and fly with some full body aerial fitness – the best way to fly into a fitness routine because it is fun! This class is for anyone wanting to get a good grip on a unique and interesting way to work out. This is an excellent place to start for anyone wanting to get the strength necessary to flip around like a kid again. This is the start. Read More…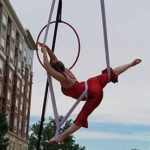 Aerial Hammock / Aerial Net
Aerial Hammock is aerial silks with a twist. When the silks are hung in this manner, a whole new vocabulary of moves is created. Aerial Hammocks are sometimes used for therapeutic purposes in aerial yoga classes. However, in this class we will focus on the more dynamic and performance related moves that can be done in the hammock. Read More…
Partner Aerial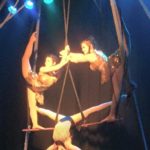 Partner Aerial class will be dedicated solely to moves in the air that require two or more individuals. In this class we will learn partner moves on the aerial hoop, trapeze, triple trapeze, and aerial silks. We will explore the worlds of counterbalance and lifting each other in the air. In this class flyers will learn to hold their own weight to take the load off the bases and bases will learn how to transition the flyer though moves with grace. Read More…
Handstands, Armbalances, and Inversions
Handstand, Arm Balances and Inversions is a mixed level class where you will learn proper alignment, positions and techniques to build your strength while being upside down. Whether you can only do a headstand or you are comfortable on your hands, you will leave this class with new exercises and confidence within your own personal practice.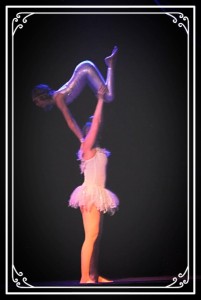 Partner Acrobatics and Partner Stretch
We are happy to host regular ground based partner workshops in partner acrobatics, dance lifts, partner stretch and family acrobatics. Like us on FaceBook or check our Calendar page for upcoming dates.Here at the last carnival we like to create community based practices. We ignite our collective potential as we support each other to reach new heights. Here is a little more information on how you and your friends you know and ones you have yet to meet can become part of this community exploration experience….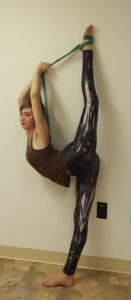 Flexibility For Any Body 
Flexibility for Any Body class is for people of all shapes and sizes and fitness levels. So come get bendy with us while you let The Last Carnival help you reach your flexibility and strength goals. Our hope is to bring acrobatic style stretching to our community so we can help people reach their full potential within their bodies. Our flexibility classes are not only great cross conditioning for aerialists, martial artists, yogis, acrobats, and dancers; they are great for anyone who is wanting to loosen those tight muscles up and move though the day with a little more fluidity. Read More…
Contortion
Leave the myths and fears behind and focus on your contortion goals in a positive and encouraging environment. Muscle flexibility can be acquired with persistent training. Contortion class will push the limits and allow for a more in depth understanding of how to execute advanced poses in proper alignment. Read More…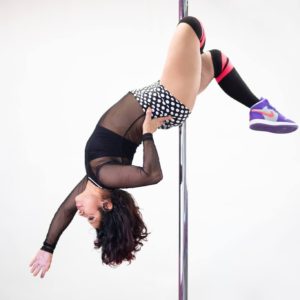 Pole Fitness
Modern day pole dancing has evolved into an exercise form practiced by not only professionals and performers, but by everyone from casual students and gym-goers to national and internationally recognized pole athletes. The world of Western Pole dates back a lot longer than many would imagine. Pole is practiced today by both men and women alike, and is a fusion of Chinese pole, Indian Pole or 'Mallakhamb', other circus-based (e.g. Dutch and French pole), exotic dance of various international influences, and pole dancing as seen in the traveling fairs of the American Depression. Pole Fitness at The Last Carnival is a fitness centered class focused on strength and flexibility based acrobatic pole tricks. Read More…
Kids Aerial Dance Classes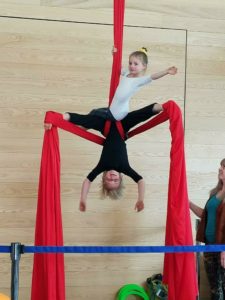 We now offer aerial silks, lyra, trapeze, and hammock classes for the 5-12 year old flyer. We will explore the foundation and fundamentals of aerial movement in a safe and fun environment. One focus of kids aerial dance will be on problem solving and understanding what makes a move, how the knots happen, how to transition in them, and how to get out of them safely. Read More…
Kids Contortion Class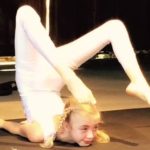 Kids age 6-12 can now get an early start with their flexibility training in kids contortion classes. Kids will learn safe techniques to properly stretch and practice inversions such as elbow stands as well as other arm balances. Read More…
Carny Class
This class brings together skills from our adult classes and workshops, tailor fit for the learning of young minds and bodies, to give your young circus enthusiast some skill training on the ground and in the air in a fun yet focused environment. Classes will be divided into age groups and is for 5-12 years old students. Read More…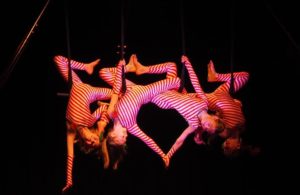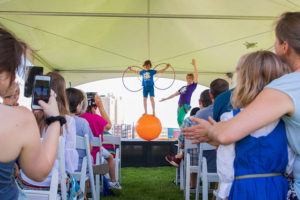 Belly Dance
It's not what you think. Belly dance is a different way to move, emphasizing body and muscle awareness through passive stretching, and awakening different (or new!) neural pathways. Belly Dance is an overall body movement experience and we will introduce you to muscles you never knew you had.
Hoop Dance 
The circle is one of the most ancient symbols known to man, representing unity, oneness, wholeness, infinity, and the goddess. The hoop can be considered a holistic tool since the many benefits of hoop dance influence the mind, body, and spirit. Not only is hoop dance an excellent fitness tool giving you a full body workout, it also aids as a new form of meditative practice. Hoop dance has even been used in rehabilitation of all types, such as physical injury and emotional rehabilitation. And the wonderful thing about Hoop Dance is anyone can do it.  Read More….
Online Training
In an effort to keep our circus community strong and keep everyone in it circus strong we will start offering training sessions using the ZOOM app. Private lessons are also available on request. This is a great resource for people wanting to get extra training time in troughout the week, those of you without circus training in your area, and parents with small children at home that otherwise can't find time to get to the gym.
Before class begins you will recieve a text with the meeting room login number. This is a recurring event, we request you sign up at least 24 hours in advance to assure class is not cancelled.
All our online classes are $10/class or you can sign up for a monthly unlimited ZOOM pass for $75/month.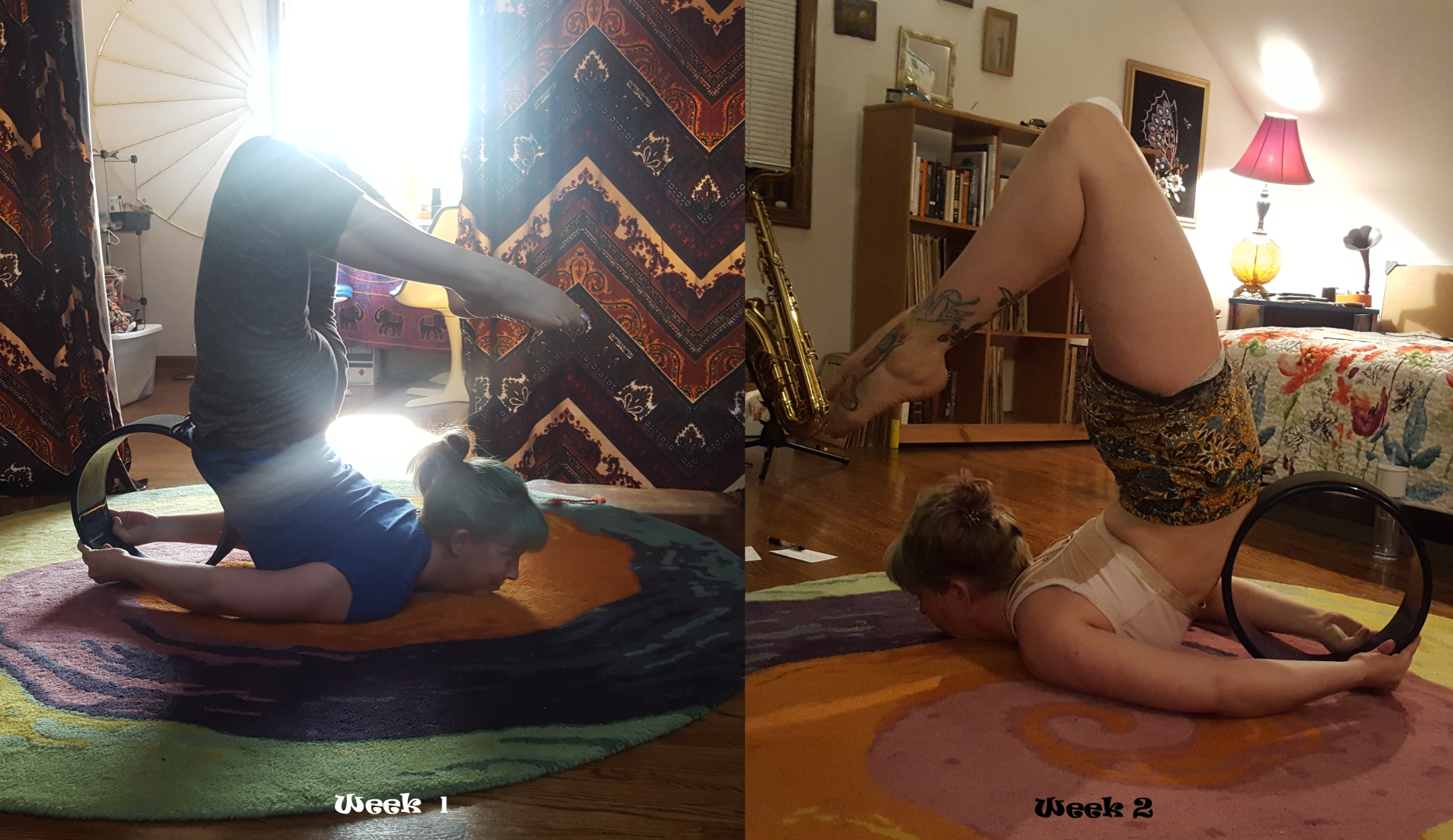 Every Monday through Thursday at Noon Central Time, we will meet for focused body flexibility and strength training for 30 minutes a day with the following schedule.
Mondays – Yoga Wheel Workshop
You will need to own a yoga wheel to participate in this class. We will work on whole body flexibility and conditioning. This is                      appropriate for all levels. Demonstrations will be discussed for variations on any poses and Sihka (your instructor) will be                                available to answer any questions you might have and give live feedback.
Tuesdays – Finding Your Splits 
Yoga Blocks and a mat will be helpful for this class, but not necessary. We will get deeper into our square front splits, middle splits, and leg scale splits in this class. We will also be working on standing balance split poses.
Wednesdays – Conditioning 
This Class is a full body workout you can do at home without the need for any equipment, though if you want an added challege bring a small weight set.
Thursday – Back Bends and Shapes
Yoga blocks and a yoga strap, theraband, or belt would be helpful for this class. If you are feeling extra tight we suggest doing some cardio before class and some light leg stretches as we will be jumping right into back flexibility at class start time. We will alter weeks between deepening exercises and contortion style poses. 
Open Gym
Open Gym  is your opportunity to use our professional circus equipment and props to practice the skills you have learned in a class. Open Gym will be supervised for safety but does not include any instruction. Students should only practice skills they have learned to do safely from a professional instructor. This time is intended to practice skills you have been taught, not to attempt new ones. Read the full set of guidlines here… 
Private Lessons and Parties
If you are looking for a unique way to remember a special event book a try it out circus party with us. And if you would like to try on your own schedule, have more specialized training, or train in a circus art that is not on our current class schedule you can book a private lesson with any of our instructors. For more detailed information click here.