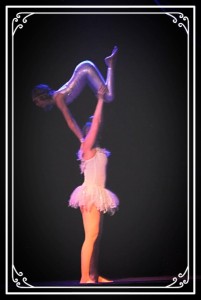 Are you looking to add some cirque style entertainment and workshops to your festival? The Last Carnival Acrobats add the extra visual entertainment that keeps people talking about your event for years to come. We can offer themed stage acts, roaming character acts, as well as aerial acts, ground based acrobatics, and prop acts. We can also provide a wonderful selection of family friendly workshops with fully insured professional circus instructors.
For fairs and festivals we have designed workshops for the whole family with our Circus Ruckus roaming prop wagon, flexibility for any body, partner stretching, family acrobatics, and try it out trapeze workshops. We also offer a variety of price options for 30-90 minute Circus Ruckus shows.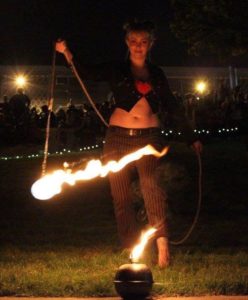 When booking The Last Carnival Acrobats for a stage show or ambient and roaming performances in combination with workshops we can offer special price packages. Contact Sihka for pricing specials and contracts.
The Last Carnival Acrobats Circus Ruckus Road Show: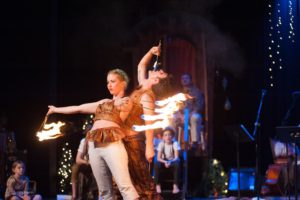 Looking to book a unique type of show for your festival that is guarenteed to draw in crowds? We will bring you the circus and more! The Last Carnival Acrobats will produce a 30-90 minute long show which will include professionally cheographed aerial, contortion, acrobatic, and dance performances. This is a high danger show specializing in partner and group acts.
$500 fire dancing show (30 minutes)
$600 fire and ground based acrobatics show (45 minutes). This show includes fire props (such as parasol, staves, fans, fire fingers, s-staves, poi, hoops, torches and rope dart) used for fire dance, fire eating, and fire fleshing. It also includes contortion, partner acrobatics, balancing acts, as well as non fire prop manipluation acts.
$1500 fire, ground acrobatics, and aerial show (45 minutes) This show adds to the above shows by including solo and parter aerial acts on the trapeze, hammock, silks, and closes with our specialty act: fire aerial hoop.
$3500 circus ruckus show (90 minute show) With the package deal you will also get 2 hours of workshops of your picking from our workshop list below. This option can also be split into two seperate 45 minute shows over two days if lodging and food accommodations are provided.
The Last Carnival Acrobats Circus Ruckus Side Show:
We can also bring roaming circus performaces to get your event kicked into high gear and get people up and mingling. We offer ambient aerial performances to add that wow factor that will raise your event to that next level of spectacular. Ambiant acts can be performed in front of any act, or standing alone in a field looking beautiful and mysterious. For prices on our ambient acts check out our private events page here.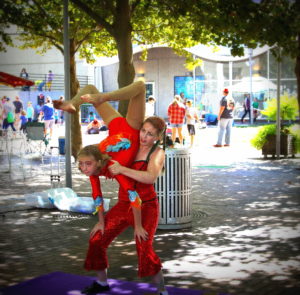 Aerial and Other Circus Workshops for Festivals:
Many people are interested in learning circus arts, but there is no one near where they live to teach them. This is one more reason having aerial and other circus workshops can be a big draw for your event. Now you can have fully insured professional performers and instuctors from The Last Carnival Circus School travel to your festival to teach amazing feats of strength and agility that will wow everyone in sight.
We offer circus workshops for festivals in:
Circus Ruckus Prop Wagon
Our Roaming prop wagon is a blast for all ages. Our wagon teaches kids and adults juggling, dance, and prop manipulation skills on the diabolo (chinese yoyo), flower sticks, scarf poi, staves, hula hoops, and spinning plates.
Family Acrobatics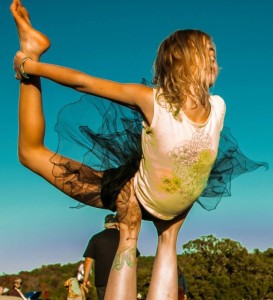 Bring along your mini me, your partner, or a friend to The Last Carnival Acrobats Family Acrobatics Playshop. In this playshop we will find new ways to balance and trust each other while lifting each other to new heights – literally. We invite you to experience the full spectrum of your being through opportunities to: give and receive; to support and to be supported; to be strong and sensitive. This workshop is designed to be accessible to every body, and encourages personal transformation in an atmosphere of acceptance, celebration, and safety.
Try it out Trapeze and Aerial Hoop
Have you ever wanted to be able to flip around in the air like you were a kid again? That wish is more accessible than you might imagine. Come to The Last Carnival Acrobats' Try it out Trapeze workshop, where one of our acrobats will help guide you through movements and shapes on the bar and in the ropes. For Try it out Trapeze we use a dance trapeze bar, which is different than flying or swinging trapeze in that the trapeze will be hung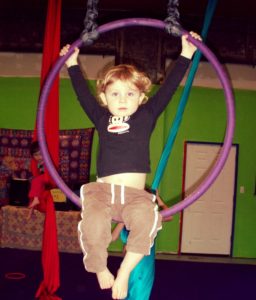 from a single point on our portable rig on a pully system. This makes it so that you can start at a height that is comfortable for both you and your instructor for spotting purposes (mats will also be present). Trapeze has a rich history in circus acrobatics that is now available for you to be part of!
Flexibility for Any Body (with any body)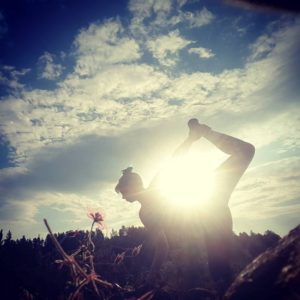 During flexibility for any body workshops we ask that you leave the myths and fears behind you and focus on your personal flexibility goals in a positive and encoraging environment. Muscle flexibility can be acquired by anybody with persistent training. This workshop will push your limits and allow for an indepth understanding of how to execute poses in proper alignment. This challenging and vigorous led workshop utilizes traditional contortion techniques, stretches, and poses as well as gymnastic, acrobatic, yogic, and dance theories of constant motions, arm balance, inversions, breath work, and awareness. We will be combining the acrobatic and flexibility elements and be transistioning through multiple movements with fluidity. This workshop really is for any body with any range of motion.
Partner Flexibility
This is a great complimentary workshop to out Family Acrobatics Playshop or also works as it's own workshop. In this workshop you will be taught how to use each others bodies to push deeper into stretches than you could go on your own and how to help each other find and keep proper body alignment in your stretches. This workshop is for people with any reange of motion
 With any of The Last Carnival workshops if you have any medical or physical injuries or limitations please let the instructor aware so they can either alter or change movements to fit your needs.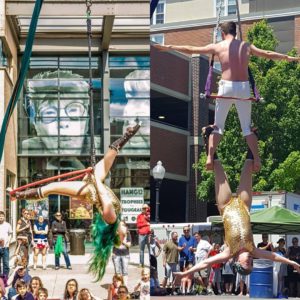 Space Requirements :
Rigging from Existing Structure:
Structure must have I-beams or Trusses that can withstand loads with dynamic force.
If the existing structure cannot be confirmed to withstand these loads, our portable rig can be set up indoors or outdoors for an additional fee.
Ladders or a lift will need to be provided by venue for rigging to existing structures.
Portable Rig:
*lyra, aerial silks (no drops)  = height 12  ft,  footprint 9′ x 13′
*doubles acts,aerial silks, trapeze, cloud swing, dynamic hammock = height  18 ft,  footprint  14′ x 17′
*doubles acts, aerial silks with bigger drops, invented aerial apparatuses= height 22 ft, footprint 18'x21′
Portable Rig Rental and Set Up: $300/day
Circus Ruckus Show Members:
Sihka Ann Destroy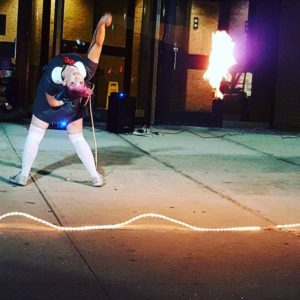 Sihka is the owner of The Last Carnival Circus School in Lawrence Kansas, manager of The Last Canival Acrobats performance troupe, seamstress for the troupe, circus arts instructor, and full time mother to two budding circus performers. She began performing while traveling the country as a busker in the early 2000s finding many dance, fire performance, and sideshow style stunt workers to collaberate with and learn from. In 2010 her daughter Willow began studing aerial acrobatics and after the birth of her son Wylder in 2011 Sihka joined in the fun and since has studied under aerialists and acrobats from all over the country. Sihka truly enjoys helping people reach goals they thought were impossible and seeing her students progress from one week to the next. The other reason she loves being in the circus is to have an artistic outlet create fabulous costumes and choreography in hopes to awe and inspire audiences across the country.
Willamina Lotus Sassaphrass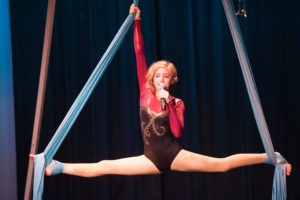 Willow began her circus training at age five and currently trains four days a week at her mom's circus school. She has trained in partner acrobatics, aerial hoop, silks, static and dance trapeze, spanish web, aerial hammock, flying trapeze, and contortion and partner contortion. Her most impressive moves are hanging on a trapeze from nothing but her heels and turning herself into a circle. She will be performing partner acrobatic contortion, aerial hoop, dance trapeze and aerial silks. She is also a avid student of music and in the past few years began combining her love of music and aerial dance as one of our aerial songbirds.
Wylder Phoenix
Wylder is our youngest performer at age six. He has been on the stage since the age of four performing for audiences at The Granada theater in Lawrence KS, Lawrence Buskerfest showing off his contortion and having his fire debut, performing partner acro with his mother in our 2017 circus ruckus shows, and at The Kaufman centers Future Stages Festival. The circus school opened shortly after he trned two, so he has litterally been raised in a circus training environment. Wylder performs contortion and partner acrobatic skills as well as balance and prop manipluation acts such as the walking globe (or as he calls it the circus globe) in combination with poi and hoops.
Matt Cramer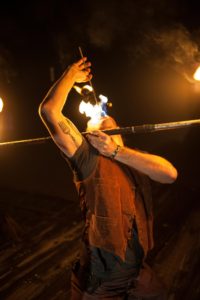 Matt Cramer has over eight years experience in fire performance. Being his love, this art has held a special place in his life. Matt specializes in poi, staff, diabolo, and fire eating and fleshing. Recently Matt has expended his circus training to include lyra, trapeze, and partner aerial and partner acrodance. When Matt is not at his other fire intensive job as a Chef, you can find him training at the circus school or performing with The Last Carnival Acrobats. Matt teaches all the fire performance skills classes and fire saftey for The Last Carnival.
with guest apperances from other members of The Last Carnival Acrobats