Guest Artist Instructors are members of our school and troupe that teach workshops, are available for private lessons and parties, and you may catch subbing classes for our full time instructors. Read the bios below and if they have some skills you are interested in learning contact us today to book a time to train.
Amy Schweppe - Instructor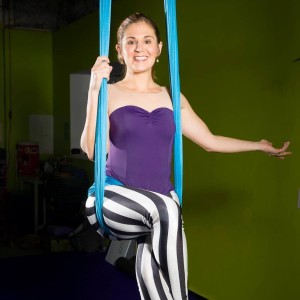 In grade school gym class Amy was the only girl who could beat the guys at pull-ups and arm hangs. She enjoyed track, dance, and gymnastics classes, but lost touch with these activities as she got older. In college she discovered yoga and began to reconnect with mind and body through exercise. Amy began seeing her own strength and capabilities increase and the roots began to grow. Yoga grew to Pilates and then eventually into weight training and CrossFit. She was lifting heavy things, jumping over tall boxes, and felt younger and more alive than ever. Her personal Pilates practice grew into teaching others how to find and hone the strength in their own bodies. Then one day a friend asked her to try an Aerial Silks class. Destiny struck.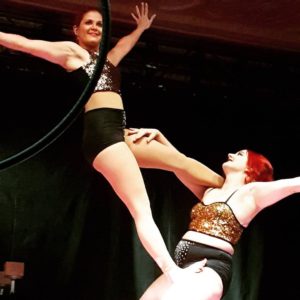 Amy loves being a student of circus and has taken almost every class there is to offer at the Last Carnival at least once. But her two passions are Aerial Silks and Acro Yoga. Amy works hard to improve her strength and form in Silks and is thrilled to be teaching these skills to others. Through Acro Yoga she channels her roots as a gymnast again. There's nothing like climbing, flying, and falling on your friends to bring you closer together.
Amy's fitness practice grew because her coaches and teachers believed she was capable of things she never imagined she could do. Fear and ego slowly dissipated and constant learning and personal discovery keeps her going. Amy hopes to help others find joy through learning and to discover the power of their own abilities.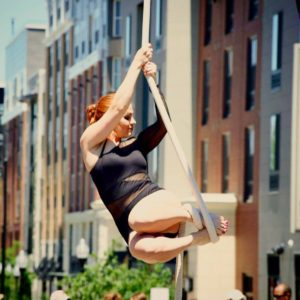 Crystal Hammerschmidt - Instructor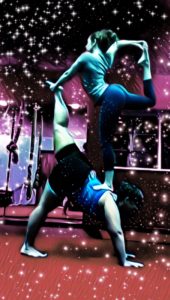 For over a decade I've been exploring various styles of yoga, so naturally my acrobatic practice grew out of yoga play. I love a good backbend, anywhere and on top of anything. As a visual artist I find the human figure to be one of the most interesting forms to observe and use as subject matter. Partner acrobatics has taught me how to stay playful as an adult, but also how to utilize my own body as a creative medium. Finding new levels of strength and balance through training, I am doing things I never could have imagined at the start of my yoga journey. Appreciation for where I'm at in my own body and the ability to honor my partners is foundational to progress and success. I love making beautiful shapes with others and teaching them how to be silly and play in a creative space. Acro presents endless challenges, awkward moments and some of the most amazing breakthrough moments. High fives, hugs and giggling are just the icing on the cake. I am forever grateful to all those who share this space with me.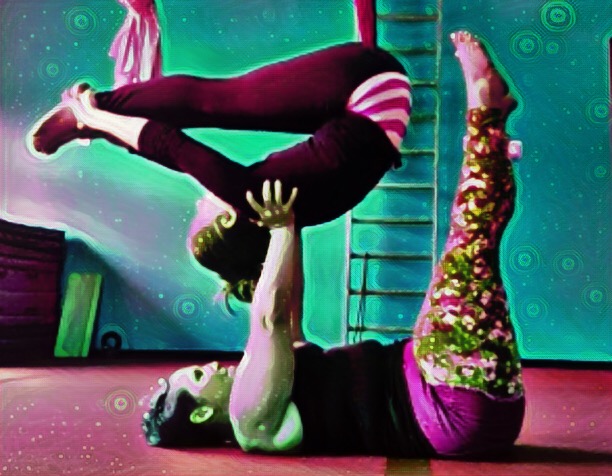 Matt Cramer - Instructor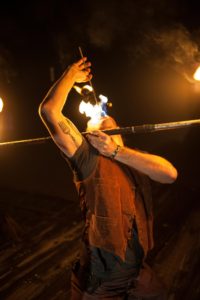 Matthew Cramer has over eight years experience in fire performance. Being his love, this art has held a special place in his life. Matt has had the privilege of performing many types of places and venues from busking the streets of the art district in The Crossroads District to producing full multi-segment shows for KC Fringe Festival. He specializes in poi, staff, diabolo, and fire eating. Recently Matt has expended his circus training to include lyra, trapeze, and partner aerial. When Matt is not at his other fire intensive job as a Chef, you can find him training at the circus school or performing with The Last Carnival Acrobats. Matt teaches all the fire performance skills classes and fire saftey for The Last Carnival.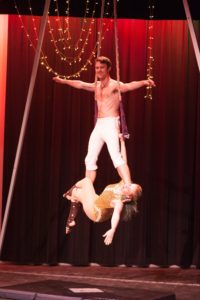 Christina Hentzen - Workshop Instructor
I was drawn to the art of belly dance after my first encounter as a teenager in the late 90s. I remember gazing into the window of the Middle Eastern restaurant/hookah bar in the Upper Haight/Ashbury neighborhood of San Francisco, CA. I was overwhelmed by the beauty, strength, and grace of the dancer inside. The dancer's distinct style appealed to me more than any other dance form I had ever experienced.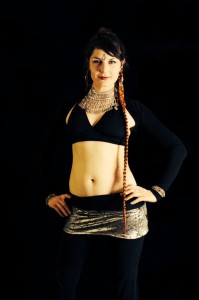 After relocating to New Orleans in 1999, I began seeking out any and all belly dance performances and classes. Unfortunately, there were very few. It wasn't until returning home to Kansas City, MO that I was able to connect with serious, inspiring teachers that enabled me to kick start my training. I began studying Improvisational Tribal Style with Amara of Troupe Duende and traditional cabaret style with the lovely Zaina Ali at Zaina Ali's Academy of Belly Dance.
In addition to my local training, I travel annually to several workshop-based festivals including 3rd Coast Tribal, Tribalcon, and Tribal Revolution. I have studied with fabulous fusion and classical dancers including Donna Meija, Kami Liddle, Zoe Jakes, Heather Stants, April Rose, Mardi Love,Frank Farinaro, and more.
I like to dive deep into specific stylization and get it right, but am in no way a purist. I believe all dance is fusion dance. I love seeing genres overlap in flattering ways. I enjoy exploring several belly dance styles, hip hop, break dance, fire dance, street and circus style hoop, circus arts, and classical Indian dance as well. I like to hand pick and incorporate conditioning and training techniques from several dance forms into my dance classes.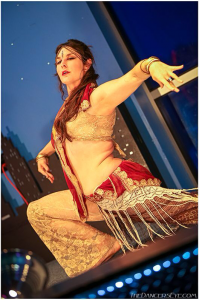 In bellydance, as in most dance forms, especially very old ones, there are several sub-genres or ways of describing the dance. We have cabaret style, oriental, folkloric, fusion, ITS, ATS, Gypsy, Turkish, Lebanese, Egyptian, and many others. Then you have the close relatives to the dance such as Flemenco, modern grand babies such as dancehall, hip-hop sub-genres such as hip rolling, liquid, and even Twirking! The evolution of world dance to me is a beautiful cultural timeline. Belly dance has transformed me into a life long student of world dance, music, and culture.
I currently work as a professional performance artist and dance and fitness instructor in the Kansas City area, commuting to North Lawrence to bring you bellydancing skills and drills. I also am the director of Mid Coast Belly Dance Krew. Community collaboration in the arts has become a serious passion and has produced some of the most rewarding relationships in my life. I'm very pleased to be immersed in the arts, watching myself and my students continually grow and expand.
After cross training for several years in multiple dance forms, yoga, and circus arts, I have created a unique body conditioning program for movement artists of any genre. My training includes 2 years of strength and flexibility training with contortionist Liv Morrow, over six years of Oriental dance training, and contemporary street and circus style hoop with several artists including, but not limited to Brecken Rivara, Baxter of Hoop Path, Ninja Hoops, Surka Noelle, and Luna Breeze Blakeman. I currently cross train in break dance with Monk Di Pham of Street Styles Academy and do lots and lots of YOGA. I have pulled the most complimentary and beneficial elements of my cross training to create my body conditioning for dancers curriculum and bring you Flexibility and Stength and Belly Dance classes to The Last Carnival.
[/tab]