Emma Cat - Workshop Instructor
Emma Cat is a dynamic aerial performer and instructor who has been pursuing the art since 2012. First falling in love with the silks, and more recently dedicating her time to corde lisse/aerial rope. She began her training in Columbia, MO, founding CoMo Aerial Arts, a club specializing in aerial silk instruction and local performance. In 2015, she began performing with Quixotic in Kansas City, and moved there in 2016 to pursue a performance career further. She continues to teach lessons in aerial silks, rope, and flexibility. In addition to her aerial work, Emma practices Ashtanga yoga and has begun her training in massage therapy. She plans to continue to teach and perform, as well as continue her aerial education through various trainings.
Christina Hentzen - Workshop Instructor
I was drawn to the art of belly dance after my first encounter as a teenager in the late 90s. I remember gazing into the window of the Middle Eastern restaurant/hookah bar in the Upper Haight/Ashbury neighborhood of San Francisco, CA. I was overwhelmed by the beauty, strength, and grace of the dancer inside. The dancer's distinct style appealed to me more than any other dance form I had ever experienced.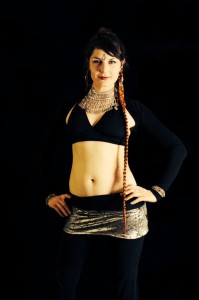 After relocating to New Orleans in 1999, I began seeking out any and all belly dance performances and classes. Unfortunately, there were very few. It wasn't until returning home to Kansas City, MO that I was able to connect with serious, inspiring teachers that enabled me to kick start my training. I began studying Improvisational Tribal Style with Amara of Troupe Duende and traditional cabaret style with the lovely Zaina Ali at Zaina Ali's Academy of Belly Dance.
In addition to my local training, I travel annually to several workshop-based festivals including 3rd Coast Tribal, Tribalcon, and Tribal Revolution. I have studied with fabulous fusion and classical dancers including Donna Meija, Kami Liddle, Zoe Jakes, Heather Stants, April Rose, Mardi Love,Frank Farinaro, and more.
I like to dive deep into specific stylization and get it right, but am in no way a purist. I believe all dance is fusion dance. I love seeing genres overlap in flattering ways. I enjoy exploring several belly dance styles, hip hop, break dance, fire dance, street and circus style hoop, circus arts, and classical Indian dance as well. I like to hand pick and incorporate conditioning and training techniques from several dance forms into my dance classes.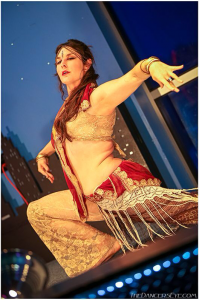 In bellydance, as in most dance forms, especially very old ones, there are several sub-genres or ways of describing the dance. We have cabaret style, oriental, folkloric, fusion, ITS, ATS, Gypsy, Turkish, Lebanese, Egyptian, and many others. Then you have the close relatives to the dance such as Flemenco, modern grand babies such as dancehall, hip-hop sub-genres such as hip rolling, liquid, and even Twirking! The evolution of world dance to me is a beautiful cultural timeline. Belly dance has transformed me into a life long student of world dance, music, and culture.
I currently work as a professional performance artist and dance and fitness instructor in the Kansas City area, commuting to North Lawrence to bring you bellydancing skills and drills. I also am the director of Mid Coast Belly Dance Krew. Community collaboration in the arts has become a serious passion and has produced some of the most rewarding relationships in my life. I'm very pleased to be immersed in the arts, watching myself and my students continually grow and expand.
After cross training for several years in multiple dance forms, yoga, and circus arts, I have created a unique body conditioning program for movement artists of any genre. My training includes 2 years of strength and flexibility training with contortionist Liv Morrow, over six years of Oriental dance training, and contemporary street and circus style hoop with several artists including, but not limited to Brecken Rivara, Baxter of Hoop Path, Ninja Hoops, Surka Noelle, and Luna Breeze Blakeman. I currently cross train in break dance with Monk Di Pham of Street Styles Academy and do lots and lots of YOGA. I have pulled the most complimentary and beneficial elements of my cross training to create my body conditioning for dancers curriculum and bring you Flexibility and Stength and Belly Dance classes to The Last Carnival.
Rachel McMeachin - Instructor
Ok so a brief history of me and my training... Began working as a fire performer in the summer of 96 while involved with a band called Crash Worship. Went on to work in a side show circus Voodoo Funhouse performing with fire, dancing on broken glass, bed of nails and bullwhip tricks in the early 2000's. In 2006 I began studying aerial silks with Lynn Coleman (producer of the Aerial Acrobatic Arts Festival in - Denver). She was training me in performance and teaching of the silks for a year and 1/2. I continued my aerial training with other professional performers and teachers such as Lara Paxton from Circus Contraption, Rain Wilson of Paper Doll Militia, and Elsie Smith of New England Center of Circus Arts and various members of aerialist on the Cirque Du Soleil performance roster. I've been lucky enough to train with some of the most amazing performers in the field.
Aerial work then led me into the world of other physical expression. Namely Yoga and AcroYoga. I began studying AcroYoga with founder Jason Nemer in 2007 and began training and traveling to work and play with Acroyogis from all over the world. I received my Yoga teaching certification in 2009 at Yandara Yoga Institute in Baja Mexico and in 2011 became a certified AcroYoga teacher in Corfu Greece. I am one of 300 certified AcroYoga teachers in the world. I am now Acroyoga International Level 2 certified and Acro Revolution certified.
I created the first aerial school in KC starting in 2006 where I have been teaching and hosting a variety of circus, dance, and movement classes. I have trained many students that have gone on to perform and become aerial instructors in most of the other aerial groups in the area. As well as creating a fun, safe and invigorating space for students who are just looking for a new way to stay fit and healthy.
Website: thievesofflight.com
Phone: 816 668-6292
[/tab]