Have you ever been interested in learning circus arts, but there is no one near to teach you. Now you can have fully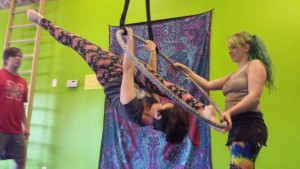 insured professional performers and instuctors from The Last Carnival Circus School travel to you to teach you amazing feats of strength and agility that will wow your friends and family. Whether you are wanting to learn aerial or ground acrobatics or prop work, we have the instructors for you. Our workshops are great for schools, summer camps, dance/ yoga/ fitness studios, private parties, birthdays, corperate retreats and other special events.
We offer circus workshops in:
Aerial Silks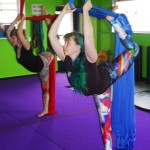 Partner Aerial
Aerial Net
Aerial Hammock (performance based moves)
Aerial Yoga
Aerial Conditioning
Lyra (Aerial Hoop)
Static Trapeze
Dance Trapeze
Triple Trapeze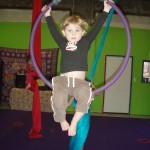 Cloud Swing
Corde Lisse
Fire Performance Skills
AcroYoga
Partner Acrobatics
Flexibility and Strength
Contortion
Family Acrobatics
Hula Hoop Dance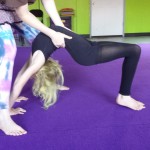 Belly Dance
Invented Apperatuses
Juggling
Pole Fitness
Hand Balancing
Kids Circus Arts (with special child size aerial equipment)
Pricing
within 50 miles of Lawrence Ks. If farther away please email for a quote.
Workshops: $250/workshop (up to 6 students in each workshop, minumum of three students)
Portable Rig Rental and Set Up: $300/day
Space requirements

Rigging from Existing Stucture:
Stucture must have I-beams or Trusses that can withstand a minimum downward load of the following: 
Static load, SWL=  400 lbs
Dynamic load, SWL=  1200 lbs
Estimated breaking load about 1900 lbs
 If the exsisting stucture can not be confirmed to withstand these loads, our prtable rig can be set up indoors or outdoors for an additional fee.
Ladders or a lift will need to be provided by venue for rigging to existing structures.
Portable Rig:

-aerial yoga & kids circus arts= height  7  ft,  footprint     5′ x 9′
-dynamic hammock, lyra, beginner aerial silks = height 12  ft,  footprint 9′ x 13′
-duo & triple acts, aerial silks, trapeze = height  18 ft,  footprint  14′ x 17′
-advanced doubles work, aerial silks, trapeze, invented aerial apperatuses= height 22 ft, footprint 18'x21′