The Last Carnival Acrobats Circus Ruckus Road Show:
Looking to book a unique type of show for your festival that is guaranteed to draw in crowds? We will bring you the circus and more! The Last Carnival Acrobats will produce a 30-90 minute long show which will include professionally choreographed aerial, contortion, acrobatic, fire, and dance performances. This is a high danger jaw dropping show that will be sure to make your audience gasp.
Tier 1 – $350 (15 minutes), $500 (30 minutes), or $650 (45 minutes) Fire Show. This show includes fire props (such as parasol, staves, fans, fire fingers, poi, hoops, torches and rope dart) used for fire dance, fire eating, and fire fleshing.
Tier 2 – $500 Ground Acrobatics Show (30 minutes) This includes possible mixes of rolla bolla, walking globe, handbalancing, juggling, partner acrobatics, and contortion acts
Tier 3 – $600 Fire and Ground Acrobatics Show mix (45 minutes)
Tier 4 $750 Fire, Ground Acrobatics, & Lolipop Lyra show (45 minutes) This show ads to our previous tiers by adding an apparatus that is a mix between aerial hoop acts and traditional circus Chinese pole acts to create a whole new experience. For evening performances we can even end the show with our fire lollipop act!
Tier 5 $1000 Aerial Acrobatics Show (30 minutes)
Tier 6 $1500 (60 minutes), $2000 (90 minutes) Ground Acrobatics and Aerial Show. This option can also be split into two or three separate shorter shows. They can be performed thoughout an event, broken up in the day, or over two days if lodging and food accommodations are provided.
Tier 7 $3500 this level of show includes a 90 minute stage show with live musical entertainment! Accomidations must be provided by the event.
***for events over an hour from our Lawrence Kansas studio, we charge $50/hour travel fees***
The Last Carnival Acrobats Circus Ruckus Side Show:
We can also bring roaming circus performances to get your event kicked into high gear and get people up and mingling. Roaming characters are $250/hr. with the current options of stilt walkers, jugglers, magicians, living statues, harlequin acrobats, and creature characters (fairies, mermaids, dragons, custom created characters on request.)
Circus Ruckus Prop Wagon
Many people are interested in learning circus arts, but there is no one near where they live to teach them. This is one more reason having circus workshops can be a big draw for your event. Now you can have fully insured professional performers and instructors from The Last Carnival Circus School travel to your festival to teach amazing feats of strength and agility that will wow everyone in sight. Our circus ruckus wagon with costumed instructors is $150/hr.
Our Roaming prop wagon is a blast for all ages. Our wagon teaches kids and adults prop manipulation skills on the diabolo (Chinese yo-yo), flower sticks, scarf poi, staves, hula hoops, and spinning plates.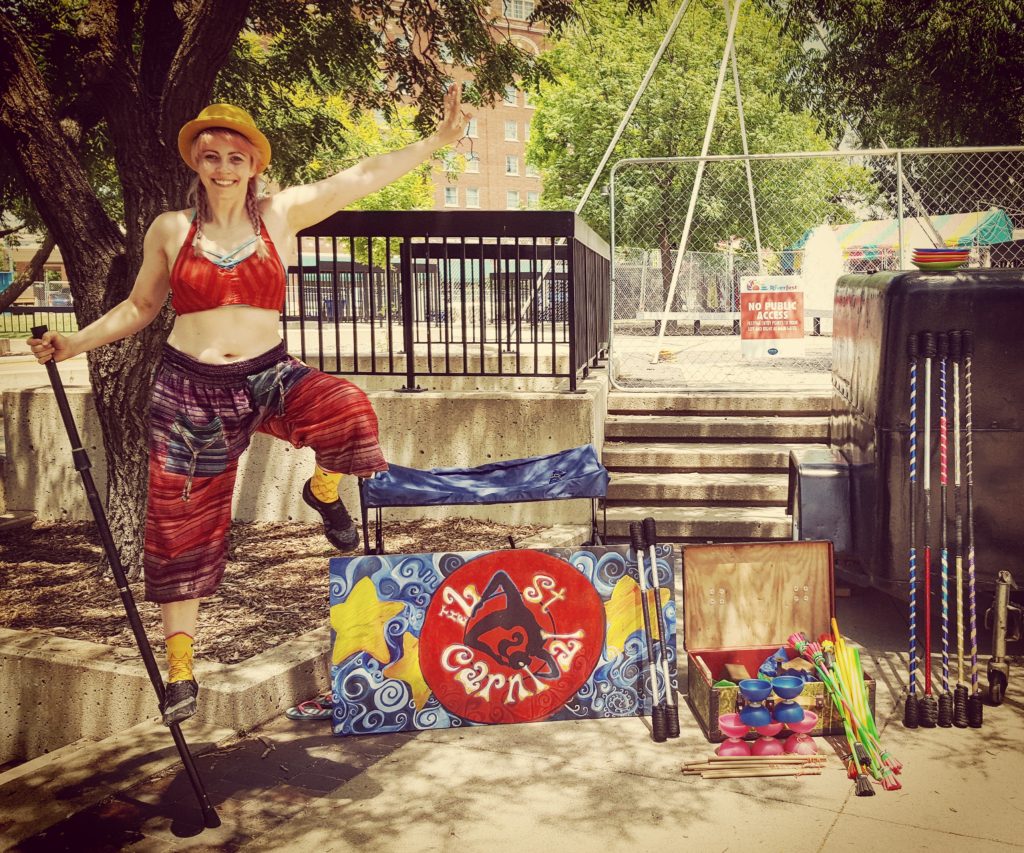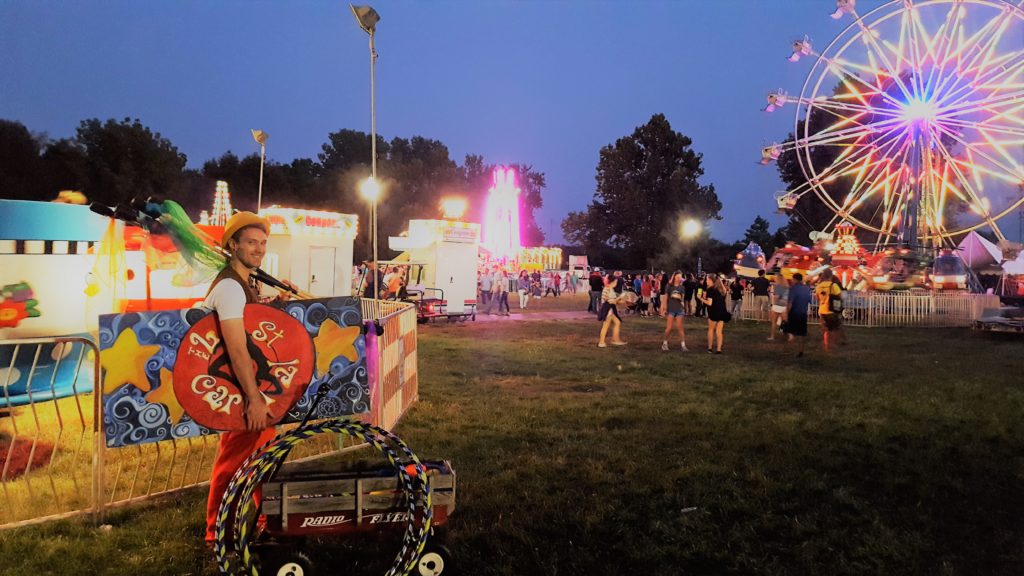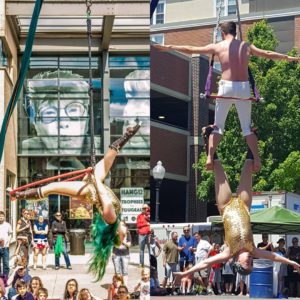 Space Requirements :
For Rigging from Existing Structure – Structure must have I-beams or Trusses that can withstand loads with dynamic force. If the existing structure cannot be confirmed to withstand these loads, our portable rig can be set up indoors or outdoors. Ladders or a lift will need to be provided by venue for rigging to existing structures.
Portable Rig: Height 16 ft. (adjustable for uneven terrain and lower ceilings). Footprint 15′ x 18′