The Last Carnival Acrobats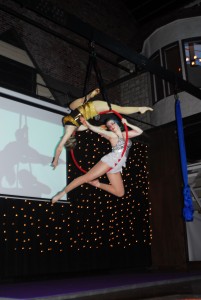 Are you looking to bring whole lot of sparkle and pizzaz and add an interesting new ambience to your event? The Last Carnival circus performers are a great addition to your wedding, corporate event, cocktial party, afterparty, grand opening, or art opening. We can bring roaming circus performaces to get your event kicked into high gear and get people up and mingling. We also offer ambient aerial performances to add that wow factor that will raise your event to that next level of spectacular. If you are looking to book a full stage show check out our concert booking page. Themed characters and performaces are available. We can perform in dance style, traditional cirque style (death defying feats), and clowing style acts.
We offer solo and doubles acts. We currently have acts for hire in:
Aerial                                 Ground Based Acrobatics & Stunts                Other Circus Arts
Silks                                                Partner Acrobatics                                      Hoop Dance
Hammock                                      Contortion   &                                              Belly Dance
Cloud Swing                                  Hand Balancing                                           Stilt Walkers
Lyra (Aerial Hoop)                       Magic                                                             Juggling Prop Acts
Static and Dance Trapeze            Side Show Acts                                            Ninja Dance
Triple Trapeze                                Fire Acts                                                       Living Statues
Invented Apperatuses
Aerial Champagne Servers
………………………………………………………………………………………………………………………………………………………………………..
Prices to Hire Cirucs Performers :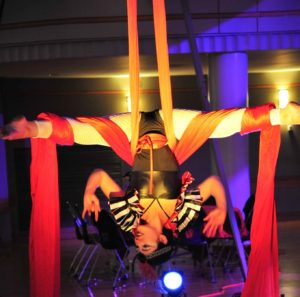 Aerial
-solo acts or multiple acts at once availble, 10 min sets (ambient) or 3.5-5 minute sets (stage acts)
to request a quote on performances please contact Sihka
*$600 (first set)      *$850 (set 2)      *$1000 (set 3)      *$1200 (set 4)      *$1500 (set 5)
Aerial Bartending (our best deal for aerial for an event)
*$750/ hour included ambient aerial as well. Minunum of 1 hour must be booked. This is a great cocktail hour entertainment for any gala, wedding, or private party.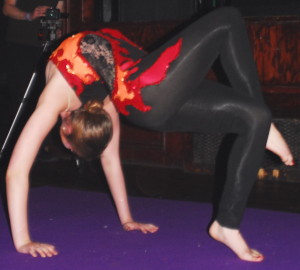 Roaming Ground Based Acrobatics and Stunts
*$350-$450/hour per performer
Roaming for Other Circus Acts
*$250/ hour per performer
………………………………………………………………………………………………………………………………………………………………………..
Space Requirements :
Rigging from Existing Stucture:
Stucture must have I-beams or Trusses that can withstand a minimum downward load of the following:
Static load, SWL=  400 lbs
Dynamic load, SWL=  1200 lbs
Estimated breaking load about 1900 lbs

If the exsisting stucture can not be confirmed to withstand these loads, our portable rig can be set up indoors or outdoors for an additional fee.
Ladders or a lift will need to be provided by venue for rigging to existing structures.
 Portable Rig:
*lyra, aerial silks (no drops)  = height 12  ft,  footprint 9′ x 13′
*doubles acts,aerial silks, trapeze, cloud swing, dynamic hammock = height  18 ft,  footprint  14′ x 17′
*doubles acts, aerial silks with bigger drops, invented aerial apperatuses= height 22 ft, footprint 18'x21′
Portable Rig Rental and Set Up: $300/day