This is your spot to keep updated on all things happening in the upcoming weeks at the circus school…
If you have any questions don't hesitate to ask your instructor or contact Sihka, owner of the Last Carnival school.
Workshops 2022
We have brought back our monthly series of workshops to help everyone get in more circus. And we would love to hear what you want to train in so we can bring you the workshops you want the most. The Last Carnival is partnering with Climb Lawrence for a monthly aerial silks workshop.
There are 7 foundational moves in aerial silks. In this workshop we will begin to cover those on the ground and in the air and find some fun poses and movements along the way. Aerial Silks is a fun way to get your fitness in, while challenging your mind at the same time as we learn how to create knots safely around our bodies. This workshop is for all levels.
Progressions will be given for intermediate and advanced students.
Sign ups for this event are through Climb Lawrence, where the workshops will be held.
There will class sessions running month to month for now. 
Please be registered at least a week prior to your class to make sure you will be able to participate in the session. Current students' class spots will be held from month to month. Please let us know if you do not plan to continue classes so we can open that spot for other students. Just a reminder that to have a make up class you must give us at least 24 hours notice that you will be missing class so that we may contact students on the waitlists to try to fill that spot. If you cannot attend regularly, consider signing up as a drop-in student.
In-Person Training Options :
If you don't see a class option on our calendar, it is most likely available in private lessons. Currently we offer weekly classes in aerial silks, hammock, fly fitness, aerial hoop, trapeze, and aerial yoga. Those classes are appropraite for teen & adult students. Wanting to get your kids interested in alternative forms of fitness? Circus arts is great for kids who don't fit into the traditional sports mold to find a way to stay active, have fun, build confidence, and socialize with other kids. We offer mixed circus arts classes (carny class) for kids ages 6-12 and have a teen class for ages 12-17, as well.
Online Training Options :
Now you can get training in no matter your location.  We are offering online training sessions using the ZOOM app. on a private lesson basis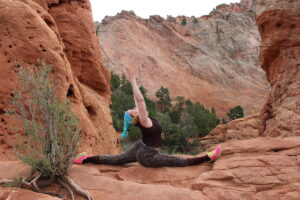 There are now options available in the following:
-Finding Your Splits
-Flexibility for Any Body
-Contortion
-Aerial Yoga
-Handstand and Handbalncing
-Yoga Wheel
Circus Showcase Information:
Coming to a living room near you, Cosmic Circus is our 2021 Community Circus Show. This show is now viewable on our community circus show page  along with other past shows. You can also find it on our YouTube channel. Stay tuned for 2022 student showcase dates.

Professional Performances:
If you are looking to book circus acts for your event check out our hire performers page!
You can catch the Last Carnival Acrobats performing at both private and public events. This troupe is comprised of instructors and advanced students from The Last Carnival, other local professional performers, as well as Sihka (owner of the school) and her circus family.
We will have shows coming for you both locally and regionally and more details will be released as details are finalized with some dates to save…
*July 15th Cervix Circus: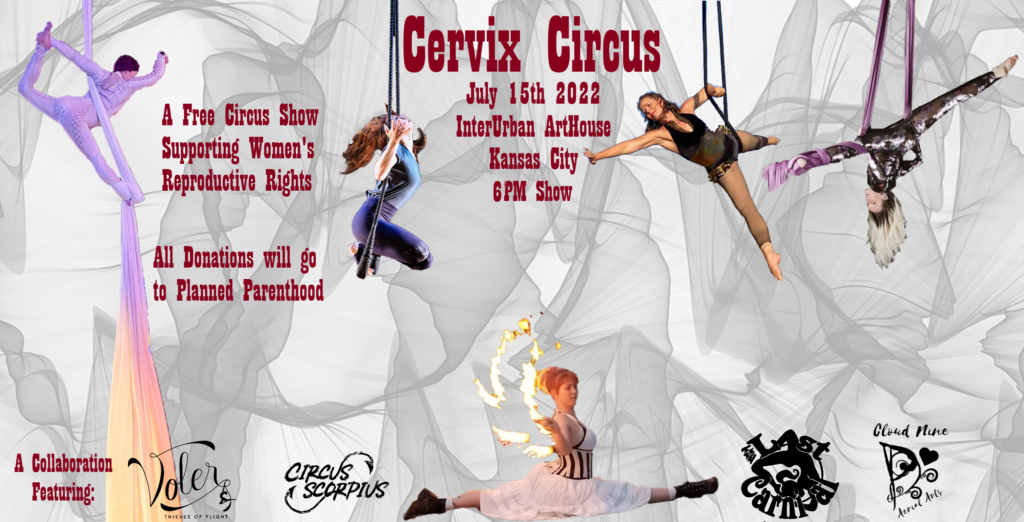 Join us to support women's reproductive rights in Kansas through this fundraising event for Planned Parenthood Kansas.
This is a collaborative event organized by four women-owned circus/ aerial acrobics schools and troupes in Kansas working together to protect our rights over our bodies.
While this is a free circus show, we will be happily accepting donations to planned parenthood at the show.
Expect to see some amazingly strong people flying in the air, bending into contorted shapes, and dancing with fire for your entertainment and a good cause.
We are flying for our rights!
*September 11th Aerial Shows throughout the day & Fire Show Finale to the festivities at NOTO LIVE! in North Topeka Kansas Arts District.

Job Opportunities:
Please send your cirque demo reels and resume to Sihka