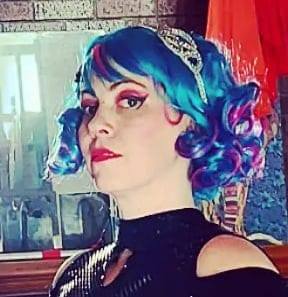 Welcome to The Last Carnival. I began working to create this company in the fall of 2013 and opened our doors for business in the beginning of 2014. My aerial acrobatic journey began back in 2010 by taking my daughter to aerial dance classes as a way to inspire her to find some form of body movement she enjoyed. After having my second child, I began my own aerial training in my hometown of St. Louis, MO  and have since studied under aerial, acrobatic, contortion, and dance teachers from across the country as well as internationally. I book workshops and training sessions at The Last Carnival with nationally touring artists as often as possible to keep what is offered here in the Midwest fresh.  I also travel to attend intensives and take private lessons, trying to always broaden my knowledge and bring new perspectives to my personal acrobatic and performance journey.
My athletic background comes from growing up with a gym teacher mom, who was the coach for all the sports we played. My parents raised my siblings and I in an active environment. My more acrobatic background comes from enjoying swimming and diving growing up. From diving, I found acrobatics over the water to be a good transition to acrobatics in aerial apparatuses. Many years prior to getting involved in aerial acrobatics I explored the arts of contortion, fire dance, and break dancing while traveling the country as a street performer in the early 2000s. The wanderlust was strong and I never wanted to stop living life on fire. I have since continued sharing live art through street theater as well as performing at state and town fairs and festivals. I also have produced and performed in stage and theater productions, and have been hired as a circus consultant and choreographer in musical theater productions and stage shows.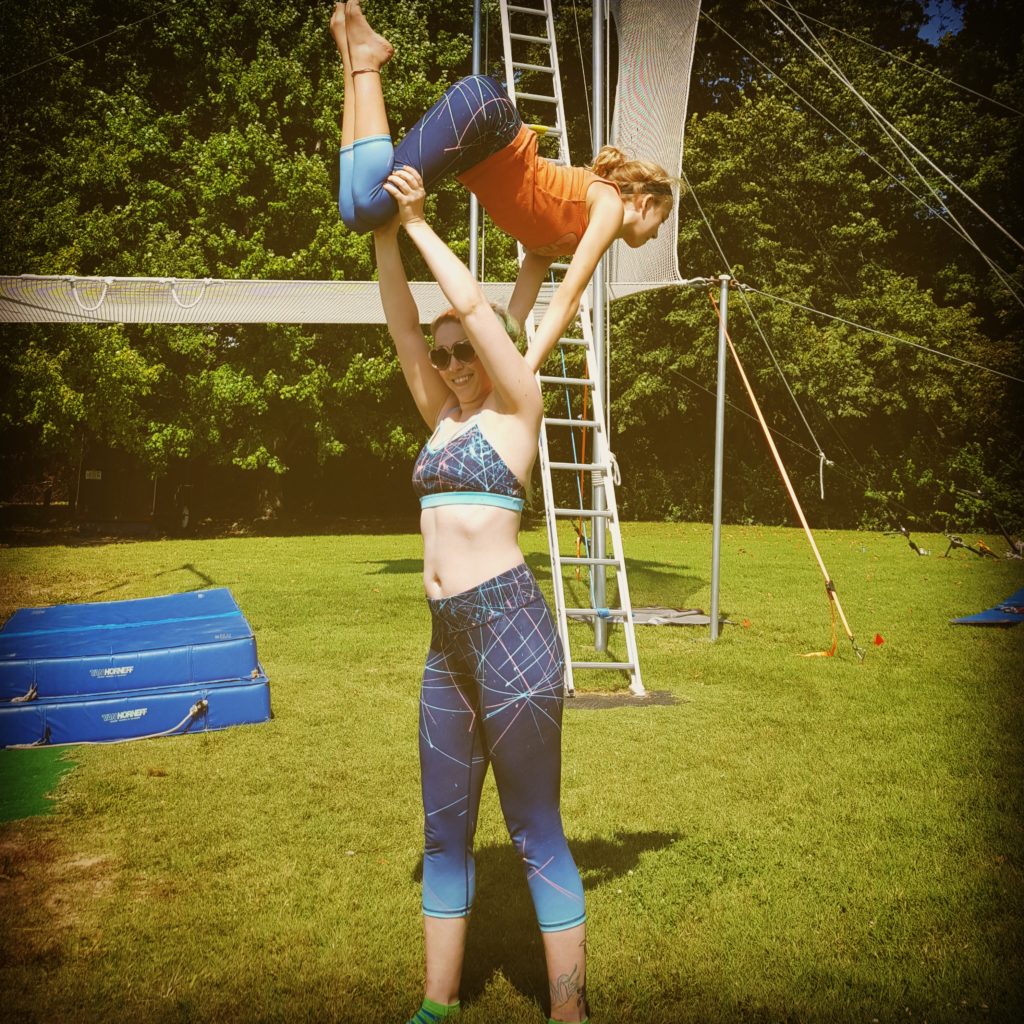 I have always dreamt of running away with the circus and living a life of art. This naturally led to years of work combining my training as a fire performer, aerialists, seamstress and costume designer, teacher and entrepreneur to start a circus school and The Last Carnival Acrobats circus troupe. There are two things I love most about my job: seeing the smiles on the faces of families who come to watch our shows and helping people achieve things and reach heights that they may have imagined to be impossible. Being a small business owner, I juggle many things, all puns intended. I juggle my kids on my feet, props in the air, oh and all the jobs needed to run a small family business. I am what is considered a circus generalist, someone who practices many different circus disciplines. The circus skills I teach at The Last Carnival include aerial yoga, lyra, static and dance trapeze, aerial silks, cloud swing, partner acrobatics, corde lisse, partner aerial, partner acrobatics, flexibility for any body, contortion, prop work, act development, and stage presentation.
Prior to teaching circus arts I had careers as a lead teacher at a preschool in St. Louis, a nanny, a seamstress, and a traveling jeweler (making hand blown glass jewelry I sold at art fairs and festivals). I moved to Lawrence in 2013 in hopes of having a safer environment and better educational options to raise my family in. And I am so happy to say that I have been lucky enough to find that here as well as a community excited about alternative fitness and art. I am overjoyed to be bringing my passion for body movement and imagination through art to all the circus enthusiasts in Lawrence Kansas and surrounding areas and help create a positive community of people cheering each other on in our new found successes.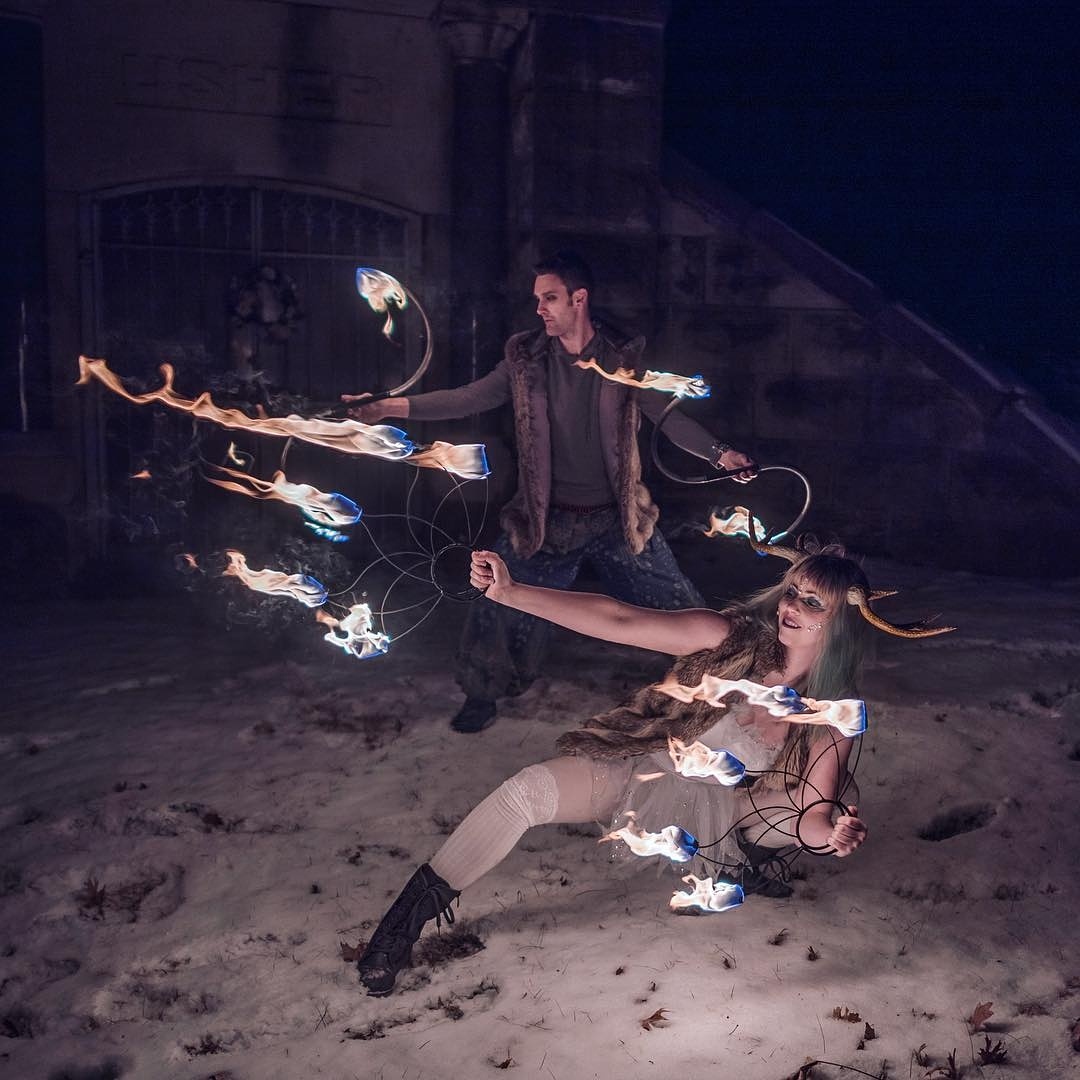 photo credit: John Clayton