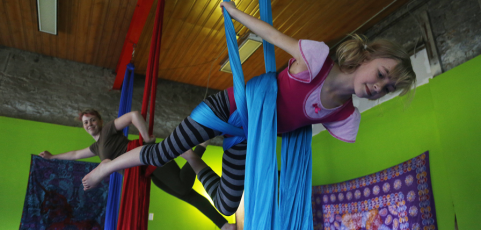 Come one, come all to The Last Carnival! The Last Carnival is the original school in Lawrence, KS devoted to advanced circus arts, aerial dance, and whole body fitness training. We opened our doors in January of 2014 for all of you clowns, geeks, freaks, hoopers, aerialists, dancers, and acrobats alike to join in the hullabaloo and find your long lost carny kin. Whether you are trying to find a fun and exciting way to work out, desire to train to become a performer, or just love everything circus; The Last Carnival has the classes and workshops for you! The Last Carnival instructors have had specialty training from all over the world, bringing you once secret treasures only known to circus families. So come visit this ever spectacular circus school to join in on all the fun fly fit classes we offer!
For centuries the circus has amazed audiences with how spectacular the human body can be through the impressive things it can do and the extremes the body can go to. To perform these amazing feats of strength, agility, and poise you need to have an amazing body, which is what progressing through any of the circus arts programs here at The Last Carnival can do for anybody with any body.  We hope to help you find a unique and interesting way to get a whole body workout that will motivate you and get you passionate about your fitness and health goals. And for those of you wanting not only a fit body but to find how to express yourself within it, we can help you receive specialty training to put you on the path to becoming a performer. Former students of The Last Carnival have gone on to be circus teachers locally as well as internationally and have performed on stages across the country. Let us help put you on the path to creating your dreams.
The Last Carnival offers classes in aerial acrobatics, aerial yoga, partner acrobatics, flexibility and contortion training. We also host guest workshops with artists from around the country and world. Check out The Last Carnival class index for a full list of the classes offered with detailed descriptions.
Check out The Last Carnival calendar page to book classes today!